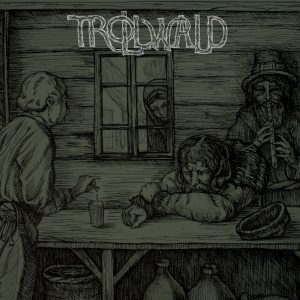 Released on the 12th of March, the very first EP of Trollwald, "U Huszczarach", was quite difficult to grasp at the start. But this piece of an interview of Andrey Gorchacov (keyboards) clears up many things regarding the form of the new project of the ex-Litvintroll.
"The music of Trollwald is different from Litvintroll's is the way that we deliberately changed the style of the material, moving from more common concept of "Folk Metal" to the less well known "Stoner Folk" with elements of Doom.
Our material has become more vicious and heavy. Such a material is "slipped" in the past, in the last project, at the end of "Kamarova Smierc" for example. Most participants of Trollwald never entirely made "Folk Metal" in its purest form, so at some point for us this genre as become obsolete and has been replaced by an ensemble of ideas which were closer to us but that couldn't be implanted earlier."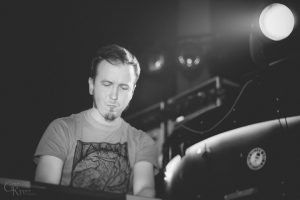 It's true that when I've listened to the EP for the first time, I felt they really unwound, that they had accumulated all these ideas and energy for years and that finally, they could give form to it. And it was the right move.
The very high sound quality also surprised me positively and this is something I had already found on the EP of other Belarus bands released this year (Znich and Sakramant). That's nice to hear!
It starts with a superb instrumental composed of a duo of keyboards and duda. It's quite a captivating and enchanting track, although very different from the overall atmosphere of the other compositions. It's a marvelous introduction that links unexpectedly well to the next song, "Bywaj!".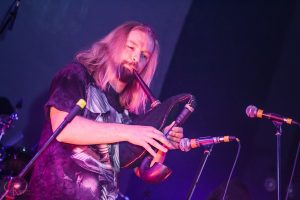 I really like the singing of Andrei Apanovich on this one, even if I first needed a period of adaptation for others like "U Huszczarach". It might sound similar because of the main riff but the difference is that it's almost without respite and it stops as curtly as it started, this is something very well handled. There's also this very interesting break with many soli and it's thanks to parts like these, which take their time to be developed, that we see that everyone has his place in the band.
"U Kiszeniach Nul" is the same model of composition but in more effective and still more abrupt. It ends with the other "UFO" of the EP and the first published track, " »Legalnyje » Prysmaki (Legal sweets)". In my opinion, this is where we feel this vicious side and this negative energy the most, which is surely due to the lyrics.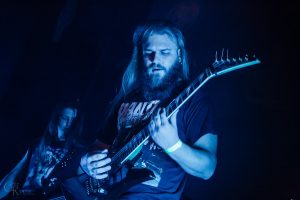 On the whole, what is remarkable on U Huszczarach is that when Trollwald take a certain idea or direction, they get to the bottom of things. This makes the compositions sound accomplished and they shape a well-defined ensemble by themselves.
To me, they've succeeded their "After Litvintroll", whatever people think of it. Just by seing them having a blast together on stage during their first gig on Christmas 2015, I knew they had reached something that hasn't been done before and that they had a head start on some other bands.
Tracklist:
Intro
Bywaj!
U Huszczarach
U Kiszeniach Nul
« Legalnyja » Prysmaki
Note: 7.5/10
Regarding the news, they've been pretty quiet so far and it's surely due to the North American Tour of Stary Olsa, band in which Ales Chumacovu (traditional instruments) still plays. Meanwhile, Andrei Apanovich joined Znich for few shows.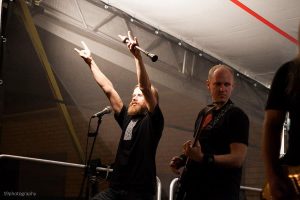 Trollwald played another gig Friday in Minsk, there are videos from it and it's totally awesome. A cover of Znich and an old song from Litvintroll's first album were part of the setlist and a new song and a new drummer were presented though they're still completely unknown.
Another gig is planned for the Minsk's Christmas Festival (again), new stuff is being done and well, I just can't wait to hear about it!
Mäntymetsä.
Links:
Photos Dmitry Sochivko: Facebook ; VK ; Album
Trollwald: Facebook ; VK ; Soundcloud
Stary Olsa: Facebook ; VK ; Soundcloud