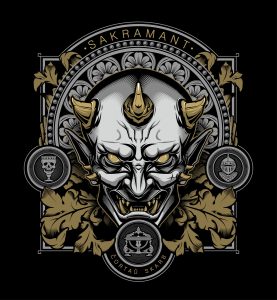 After the release of their first song in last December, Sakramant's first EP, Čortaŭ Skarb , came out in June. It's available on Bandcamp here.
And it starts well with the eponymous song with an encouraging, minimalist but well developed intro, though it's short.  We don't know what this first chorus means, we're not sure of how it should be pronounced but we sure would chant it during a gig. There are many heavy and interesting riffs as well as solos, which make it an efficient track.
But regarding the EP on the whole, I rather had the feeling it was quite laborious.  The only breaks were given by the few parts of duda, flutes and keyboards, like this melody in the introduction of "Mužny Vołat Pahaniajła" which is surprising at the first listening. And surprise is actually what tends to lack to this EP.
It was also felt through the singing. Despite alternations between whisperings, guttural singings and choirs, I found a lack of versatility and of appeal in this voice. But it must be difficult to come after Andrei Apanovich in a band of which people have the same high expectations as for Litvintroll, as well as it's difficult to succeed to Andrei Gorchakov at the keyboards.
Talking about it, I now find it a bit vain to name who between Sakramant and Trollwald is the real successor of Litvintroll. Because at the end of the day, even if they are similar ingredients in their compositions, they both did something different and that's the best thing that could happen.
Mäntymetsä.
Tracklist :
Čortaŭ Skarb
Mužny Vołat Pahaniajła
Bona
Rusalka (bonus track feat. Lesley Knife)
Rating : 6/10