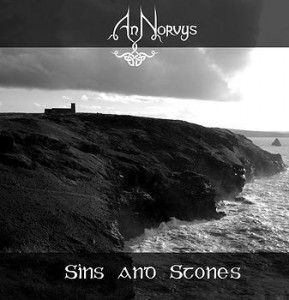 An Norvys, Young band from Cantal founded in 2009, present their second EP "Sins and Stones" auto produced release in January 2013, he follows "One and All" recorded in 2011. The Folk auvergnat quartet delivers us a powerful music rhymed by the sweet voice of Leex harmoniously accompanied by the sound of violins and saturated guitars.
First for the production, there is nothing to say, the sound is worthy of a professional production. The CD start with a track which take us on the An Norvys atmosphere and their Celtic legend, shared between powerful rhythmic and melancholic times. For the second and last track, the male growls from the singer blends perfectly with the remainder and add more violence for this tracks. The third track start with a voice and violins introduction perfectly mastered, calming the fury of the second song with a title more rock. The last song still introduced by a sweet melody this time with a guitar, then the rhythm gradually accelerated to send us at the frontier of black metal .
In conclusion, a wonderful EP to advise all folk metal amateur. Only complaint can I do to this stuff: He's so short, we want more! Personally, I'm eager to the arrival of an album which can fill frustration of having just 8 tracks to ear and the occasion to see them on show, I think it should be an excellent live.
Deathslid
NOTE : 10/10
Tracklist :
01. Matthew Trewella
02. Agnes And Bolster
03. The Merry Maidens Of Boleigh
04. The One Who Slew Giants
Release : 16 December 2012
Lien du groupe : Facebook, Bandcamp.