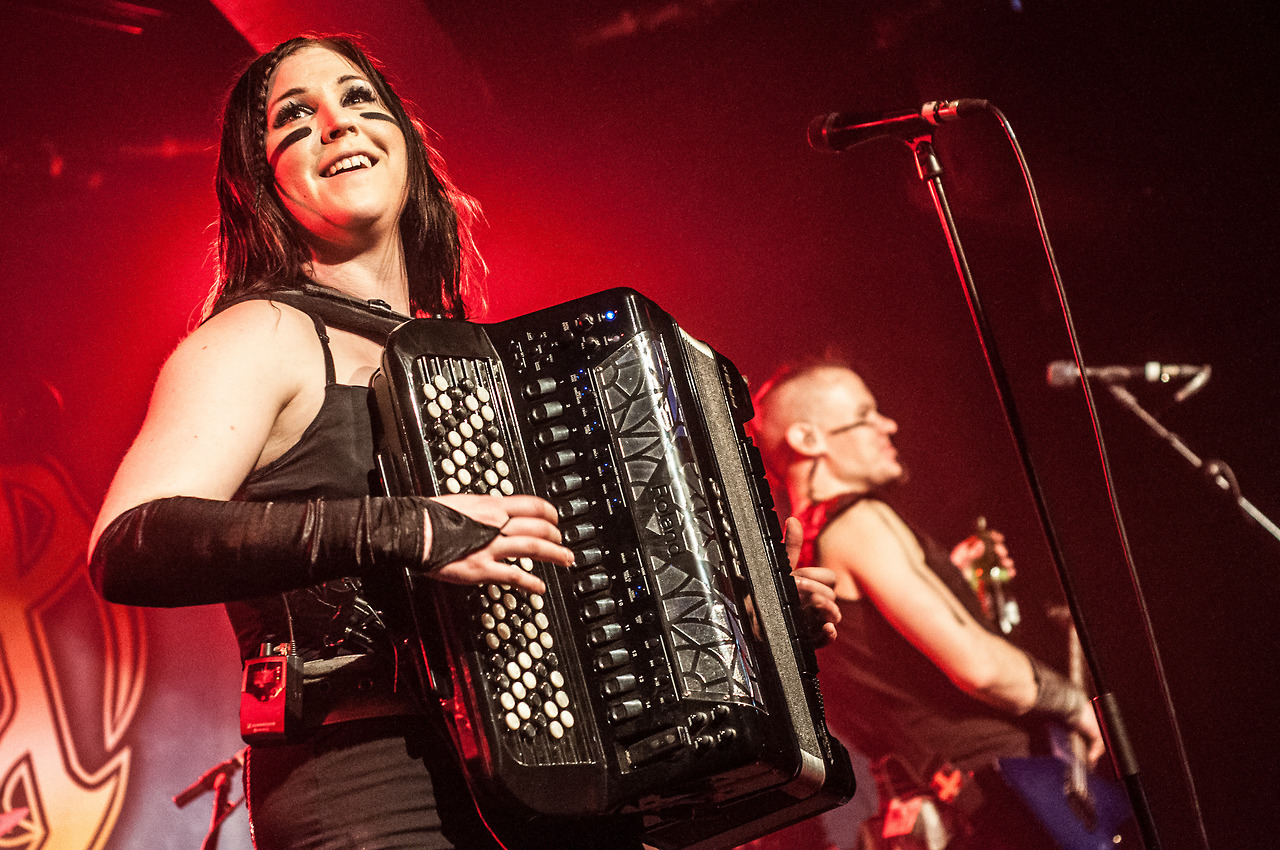 Just before Ensiferum's show in Paris, we had the opportunity to meet their accordion player Netta Skog and to ask her some questions about the new album and other things about the band !
Your new album was released one week ago, how was it received by media and your fans so far ?
I think pretty good ! Of course there's always negative parts, people who don't like the new album, but mostly the reviews and the comments from the fans are really good.
And I saw you were in good position in European charts, especially in Finland, it's amazing !
Yes ! And in Germany it was the first time we were in top 10, so we were really happy about it !
This is the seventh album by the band, according to you, what distinguishes it from the previous ones ?
Well, in my opinion, the greatest difference is my accordion, since there never was any real accordion on the previous albums. And I think there's a lot of clean vocals on this album, and especially my own vocals too, so I think it's a big step for this album.
With the show of tonight in Paris, you come to the end of the first part of your European tour to promote Two Paths. What are the songs of the albums you prefer playing ?
With the new album, we realised every single song is playable, we could absolutely play the whole album.
Yes, this is an album made for shows !
Yes ! And when we play the songs we think « oh how can we choose ?! », we'd love to play all of them ! But now, of course, we decided to play « Way of the Warrior », and the first single « For Those About to Fight for Metal », and the third single « King of Storms ». And there are also two special songs which are the title song « Two Paths », and … one of the biggest difference is that now, I will play « Feast with Valkyries », I think we gonna play it live too.
« For Those About to Fight for Metal » refers to AC/DC with their song « For Those About to Rock », why did you choose to pay tribute to this band in particular ?
Well, I didn't write that song but what I heard is that Sami, the bass player, was jamming by himself and then he read the news, the singer of AC/DC lost his hearing, and he was like « Noooo !!! Well, AC/DC, AC/DC … Haaa, AC/DC ! », and he got his inspiration from that ! And then he read another news about Manowar, I can't remember what it said, anyway, he got the inspiration from the news to make that tribute song.
When I listen to the album, I had the impression that we can divide it into two parts, with the first one until « King of Storms » which is more agressive, and the second one which takes a more heavy metal turn. Does the title of the album allude to these two facets ?
I don't know about the name of the album, but what I heard and what I think, the album is like a « two paths », you can choose to go one side or other side. You know, for example there is like aggressive songs and then there are soft, and even pop songs, that's like softer. So there are two paths on the album, so yes, exactly !
What are the main themes of the album ? Are there any of them that you never talked about before or that you deal with from a different point of view ?
I think we didn't have a theme when we began to write this album, it's just what it is now, so … well !
You have officially replaced Emmi since last year. First, can you remind us of the reason why Emmi left the band, and why did Ensiferum choose you in particular ?
So Emmi left the band for family reasons, that's understandable, and they chose me because they knew me before, because I played in Turisas, so we were friends already and at first they wanted me to stay just for one tour, and Emmi decided to leave so it was easier to the guys that they just keep me in the band so that's how it happened !
We also noticed during your last shows that the band seemed to enjoy more on stage since you are in the band, what do you think about that ?
Well, we do ! We have a lot of fun on stage ! Of course I don't know what kind of atmosphere there was when Emmi was in the band, but I love the guys and playing with them !
Besides the song « Feast with Valkyries » is the one which really highlights you in the album, not only with the accordion but also with your singing. It is a good surprise because it gives much more diversity in the kinds of voices, does the band intend to include more female singing in the future ?
Maybe ! You never know, every album is a mystery in the future so it depends on the songs, what kind of songs we will have, but I wrote the song « Feast with Valkyries » with Markus so it was easier that I sang it too, it was my baby !
I suppose that the months to come will be hardly restful, you will quickly do a series of shows in Finland. Do you plan a tour on other continents and other shows in Europe ?
Yes, we have Russia in December, and we have South America in November, and of course after Christmas we go to Asia in Japan and China, and later we will have another European tour and US tour !
You had an acoustic show in Helsinki last year, do you plan to release an acoustic album one day, and to do an acoustic tour in Europe ?
We're talking about that ! It would be so much fun, we would love that but of course, this thing is the main thing, and if we have time we will do more acoustic shows.
And how was the atmosphere during this show ? Was the metal atmosphere still here ?
Well of course the playing was different because we sat down but the atmosphere was almost the same, there were mosh pits, in an acoustic show it is quite amazing, so nothing bad to say about that, it was really good !
You released a live DVD in 2006 but you never released a live album, do you plan to do it one day ?
We never know, maybe someday !
The last question is a special one for you : we had the impression you were much shier when you played with Turisas …
Oh really ?
Yes, I never had the chance to see you with Turisas but Cyril did, and with Ensiferum you look much more blooming, is experience which made you feel more comfortable ?
Experience of course, and I was 16 when I played with Turisas so every girl would be shy if she played with such a band on stage. And there's also the fact that I love the guys, we have a lot of fun together on stage and out of the stage, so it's great to play with them !
Thank you very much Netta, and see you later at the show !
Thanks to you, see you later !