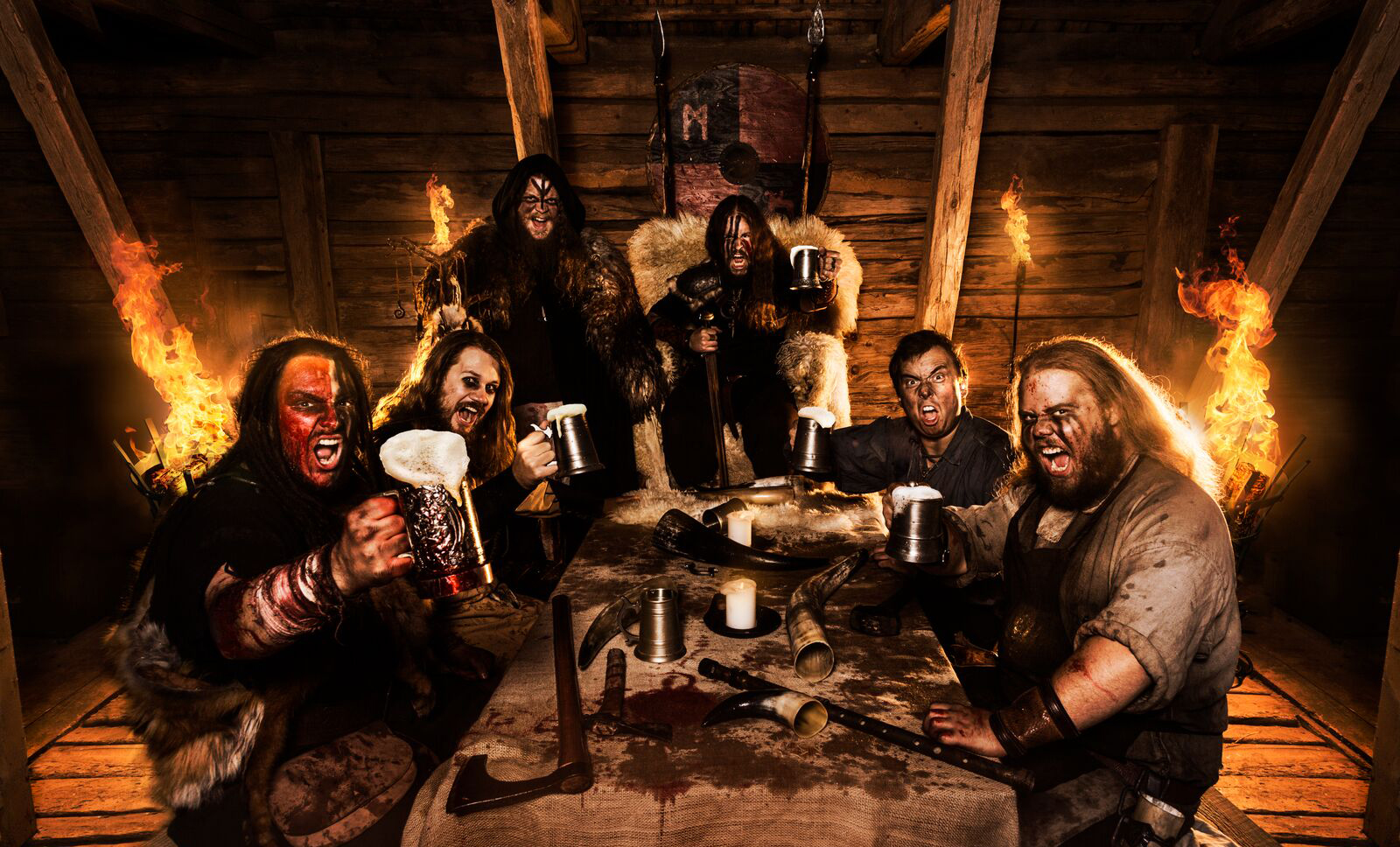 Answers by Johan Rydberg, flutes, mandola, bagpipes
– Hi Grimner ! Your third album Vanadrottning will be released in less than one month, can you describe it in some words ? I could listen to it and it sounds heavier than the previous ones, what do you think about it ?
Hi! Well, I would probably describe it as what you know and like about Grimner but even more refined and just a tad bit darker.
Yes, during the last album we really nailed the epic and melodic parts. For this release we wanted to go a little heavier and darker. So there is some more guitar rhythms driving a lot of the songs without lossing the melodies.
– Marcus left the band last year and has been replaced by Martin. How did you meet him ? According to you, does he bring anything new to the band ? I saw he's also part of the heavy/doom band Bell, does it contribute to the « heavy metal » aspect of your new album ?
Well, we actually found him on metal archives haha. We started just checking out other Swedish bands and he was playing in Bell and we contacted him and he was interested and turned out being a great guy and a really great successor for the band.
Well, most of the songs was already done when Martin joined the band. So he did an amazing work learning all the songs for the new album in quite a limited time. I would probably say that his vocals contributed more to a new feel on this album.
– There is a special guest for the song « Fafnersbane », who is Erik Grawsiö (Månegarm's singer). How did you get in touch with him and according to you, what does he bring to that song ? I know that Månegarm is a model for you, it must have been a great experience !
Well, we have met the guys in Månegarm sometimes before playing at the same festivals. And Ted kind of know Erik a bit in private. So when we asked him he thought it would be fun to join for a track on the record.
Erik definitely brings some power to this song. His vocals is a bit harsher than Ted's so it makes a nice contrast between the three different singers in the song, Erik, Ted and Martin.
Yeah it was really fun to have him in the studio for a while. He is a really nice guy and was very professional during the recording.
– Vanadrottning refers to the Nordic goddesss Gullveig. According to the myth, I have the impression that there is a kind of debate about her because on one side she is considered as an evil magician and on the other side she's presented as a victim who endured much sufferings. What is your point of view about her, how do you present her in your album ?
Well, this is from a very old tale that doesn't have too much to build around. She was a witch but also the queen of the Vanir, another family of gods than the Aesir gods. And these two families of gods went to war and in the end she was captured and was burned at the stakes. But she was reborn from the ashes, and she ended up being burned and reborn three times. In the song we don't really pick a side, the song is mostly about her and her suffering.
– You released the video clip of « En Fallen Jätte » last week and there's already more than 8000 views, it's great ! Do you have any anecdotes concerning the shooting ? Why did you choose this song in particular to introduce the upcoming album ?
Yeah the response of the video has been really great. Well it was one of the first songs that was written for the album and we have had a feeling it would end up as the first single. It has the melodic Grimner feel and also introduces some of the more guitar driven parts that are present on this album.
– Let's talk about gigs. You came in France for the very first time last year for the Cernunnos Pagan Fest, what did you think about the audience and the festival generally speaking ?
It was a really great experience, the crowd was really great during the gig. And we had a great time offstage as well hanging out with the guys in Fejd at the hotel and visiting some tourist attractions in Paris. I was really happy to get a closer look at the gates of Notre-Dame and its spectacular forgework. Haha.
– You have a lot of gigs which are planned for this year, especially a small tour in the United Kingdom. I know that it was your main goal, you should be glad ! Can you remind us about your other gigs for 2018 ? What will be the next place where you would like to play now ?
Yes we have more gigs than ever before this year. Well, we will be visiting a few festivals this year. Hammerfest as a part of the UK tour. We will visit Ragnarök festival once again which we look forward to. And we will also play at Wave Gotik treffen which is another first one for us. Other than that it's going to be a lot of club gigs including our longest tour so far in September. Which will include a gig in Paris.
Well, I guess Wacken is still a bit of a dream, or 70 000 tons of metal cruise. Or just to get a chance to play a new continent would be awesome!
– This is the end of the interview, I let you the last word !
Hi there, thanks for taking your time to read this interview! We really hope you will enjoy our new album Vanadtrottning. And hopefully we will get a chance to meet you at one of our upcoming gigs. Cheers!
– Thanks a lot for having answered my questions, see you soon at your next shows !
Fée Verte