And they came from Siberia to invade Western Europe… The warriors from Welicoruss are back with new album! We took the opportunity of this release to have a little talk with Alexey, singer, guitarist, and founder of the band.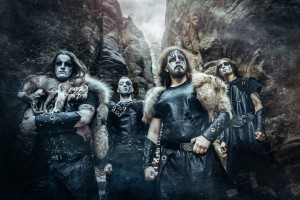 Hey Welicoruss, you are a pretty unknown band here in France; can you introduce the band, and its history a bit to our readers?
Hi! Welicoruss has initially begun as a project in far year 2002. That time I was a student of architectonical academy and I tried to make music on my home computer. But in the beginning I didn't even think about making the band, music was just an entertainment for me. But in time, my friends started to convince me to make a band to play this music life. I thought to myself – why not?
The line-up had been changing very often in the first few years, because it was difficult to find musicians who understand such music in Novosibirsk. But since 2008 our line-up has become more stable and we've issued our first album WinterMoon Symphony on the Moscow major label CD-Maximum. Then we've played several tours in Russia and former Soviet republics whereupon in 2009 we've released our second album Apeiron on the same label. Then came some problems with line-up, which has paused our activity for a while, but in 2011 we've released EP Kharna, which has shown new tendencies of Welicoruss. But the whole album Az Esm' was finally published this year, and we are very happy about this!
You are singing in Russian, was it important for you to keep that language, and that way also keep a strong relation to your roots?
Somebody said that people should sing in language in which they think, but this is partly true. Of course, it's better to use native language in our music, but we have a strong wish to make our art more understandable to all listeners. We think that everybody should stick to the roots. But we'd also like to make our music available to everybody, so that's why we are planning to make songs in different languages in future.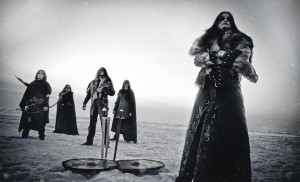 Of course most people here don't speak Russian. Can you tell us about the concept of Welicoruss, what is the most important to you, and what are the lyrics about?
To speak in common about Welicoruss concept, it's all about subtle-material aspect of Universe, human's role in this life, past times, heroes and great battles. We believe that the world around us is much more complicated than it seems; life and death are just parts of the one global process and you can learn it by recognizing yourself in a harmony with nature.
You used to have a deal with Domestic Genocide Records (for distribution if I'm not mistaking), but you are still working without a label. Is it a choice you made? And why?
Currently we are not working with Domestic Genocide Records anymore, because they don't fulfill their obligations, so we are looking for label now.
You are a quite unique band, mixing many influences and genres, from folk elements, to more black metal aspects, going through symphonic orchestrations… where do all this come from?
Everything is coming from my head and from my musical preferences) I like many musical styles and I also like to mix them together. But it happens somehow by itself; the regular metal isn't enough for us, so we are trying to go out of the borders of standards.
There is also the fact that you guys come from different countries (Serbia, Czech Republic, Russia). Does it bring something more to the band ? The current lineup is quite recent also… Why did you choose to move to Prague?
The internationality of our line-up hasn't had much possibilities to affect the music yet (though it could affect live shows). But I'm sure that it will express itself on the new album! The reason of my move to Prague was the final end of the previous line-up. I just had nothing to do but to change band's location to the place, where the musical environment is much more favorable.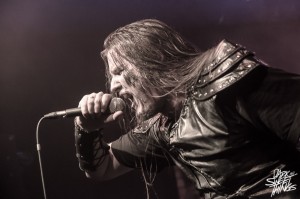 How would you define Welicoruss ? What is your particularity compared to other bands?
We are trying to put something cosmic into our music and to connect past and future in the same time! The Welicoruss's music is complex and it's difficult to put it into borders of one genre: we have much symphonic and atmospheric landscape, we are trying to create a new space, our own world! Probably, this is how we are different from the other similar bands.
Time to speak about Аз есмь. Last release for Welicoruss was Карна, (song that is also on Аз есмь), and it was a single. Last full-length was released 2008. I've been following you for a while now and I must say I was kind of desperate to see new album being released at last… Why does it take so long between each release?
There were many reasons: the search for our own style and sound, line-up changes, internal band's problems… Moreover, don't forget that we've tried to do this all in Siberia, where the conditions for development of such music are very hard. It may sound trivially, but you just can't imagine, how many efforts I had to make to develop our music there!
What's the story of Аз есмь?
There is no any story itself. I'd rather call Az Esm' a compilation of my thoughts about the life, the Universe, the feelings… Sure, you can find some specific stories in songs like Sons Of The North or Kharna, but they are all just particles of a huge puzzle of album's conception. It's difficult to explain it in a few words, because it is as complex and beautiful as our life. It's better to listen to the music and to read the translations of the lyrics than to try to explain what the album is about.
What about the artwork? What exactly did you want to represent through it?
The main artwork was made by our band's stylist Anastasia Kriger. She made all the graphic works, and Alex Mayhem made them look more attractive. The cover schematically shows the human being which mutates into out space super being, feed by the cosmic energies. The cover art clearly shows the inner essence of the album.
I think one of the strong points in this album is the use of the chorus. Can the different voices on the album be seen as different characters of a story?
Yes, I'm a big fan of choruses! I love them much and I try to use them wherever it's possible. But I don't think these voices are from stories – it's more an interpretation of our ideas. But if you speak about elder's voice, it's true – this character presents in the concept.
I take the opportunity here to ask a more personal question : Слава Руси from previous full-length is definitely one of my favorite songs. Could you tell me what's the story in it?
As I said earlier, there is no much story in it; this is a kind of patriotic song, which describes my warm feelings to my Fatherland and my proud about its history and people. It's very personal song which has powerful music at the same time.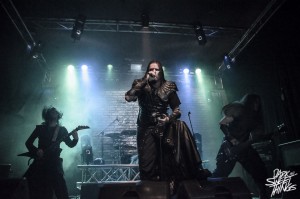 You played with Arkona last year, I guess it was a strong experience for you?
We've played with Arkona for several times in Russia and two times in Czech Republic. I'm not fan of such music, but I respect them for their creativity and hard work of development their music and ideas.
You played in France for the first time last week, how was it? Why do you come only now in France?
It was very hard to come to France from Siberia for many reasons. We've tried to do this in 2010, but we had a visa problems, so they made all our planned concerts impossible. Now we are based in a center of Europe and we are prepared to make many concerts in Europe and further. Our first show in Paris was awesome! Despite the size of the club, it had its own atmosphere, and the audience has brought even much more positive and energy! We are very glad and inspired about such reaction of the audience! Thank you much!
What are the plans for the band now?
As I already mentioned, we are going to play as many shows as possible to bring our music to masses. In the same time we are looking for booking agency and for label to make this process easier. More than, we are preparing our first DVD and we've already began to work on our next album!
Anything else to add for a final word?
France, you've surprised us not only with the beauty of your capital, but also with your warm welcome on our first show! We wish to give you more of our music and to come back to you again and again!
Thank you for taking the time to answer all this!
Thank you!
Morrigan.
Find Welicoruss on : Facebook, Official Website, Bandcamp.