If one day you randomly find yourself in the streets of Dublin, it's highly likely you run into the brothers Healy, who are the atypical Dublin City Rounders.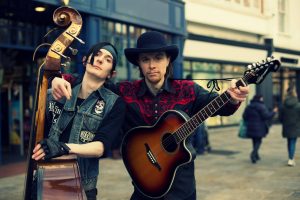 Far from the common themes addressed by the many Pagan and Folk Metal bands of which we are used to, they have chosen to play an outstanding music by being inspired of a very special historical time. Rohan and Al tell us more in this interview.
Hi there!
First of all, could you clarify what is a "rounder" and why did you choose this name?
Our use of the term "Rounder" comes from the mid-19th and early 20th century American definition which describes a "Rounder" as being someone who "does the rounds". It's usually a negative term as they make their way "round" bars, prisons, and whore-houses and find themselves picking up odd jobs, rambling, gambling and everything in between. Dodgy dudes basically. But there is also a romance associated with the term. Rounders don't work for wages, they don't have a boss, they break hearts and skip town, they live free. Which is part of the greater philosophy of our act. We're always professional, but we won't be slaves to no one. It's also a term strongly associated with the time period of music we draw inspiration from, the late 1800's and early 1900's, the early swing, blues and ragtime which fits the theme.
One of the first things we notice about you is your costumes, really original and eye-catchy. That said, they are both radically different: Rohan's are kind of country and western style while the ones of Al are generally punk and gothics.
Two costumes for two influences?
Yes, we decided there's no point trying to squeeze our different personalities into one look. So we allow our costume to flourish based on who we are as individuals. And when we come together it creates something unique. The visual aspect is important to us as it was to the great Vaudeville, rock n roll, punk and western swing performers that we so admire. We love when we see other acts make an effort to stand out visually, and we try to do the same.
So how did you end up playing this music together? Is it a family thing?
We've played music together since we were children, in punk bands in Australia like Peach Fuzz with our older brother Patrick, with our father David Virgin, who has shared the stage with the likes of Nick Cave, Cat Power and INXS, and our uncles. Music has been a constant in our lives, as natural as eating or breathing.
In Dublin, you are everywhere: you play on Grafton Street, at the Gypsy Rose and you even have you own radio show! However, I'm a bit skeptical regarding your numerous appearances on TV shows like The Voice or Busker Abu in Ireland.
Why did you choose this way to increase your fame and why do you use it so much?
Yes, for the past 2 and a half years we've played at least 18 shows per month around Ireland and the UK, and the most gigs we ever played in a month was 32. We live to play and play to live. / It's been great fun doing the radio show, and as for TV, Radio, Print media or social media it's all the same for us. We love music, and music is about communication of feelings and experiences, and we want the chance to communicate our music to as many people as possible. Not just devoted music lovers, but everyone. When we were invited to perform on Busker Abu and The Voice UK we said "If they're crazy enough to put us on TV, we're crazy enough to go on and do something people won't forget".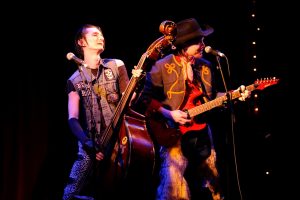 Do you have side projects out of Dublin City Rounders?
Yes, the solo Rohan project is one. 10 Rohan albums have been released over the past 12 years, and then there's the punk/psychobilly trio Quiffs N Coffins. We also perform with our dad with the act David Virgin & the Stanley Knife Brothers. Quiffs N Coffins is great, it gives us the freedom to really enjoy our punk roots with high speed, high volume rockabilly/punk. We try and do a couple of show a year with Quiffs and really make them special occasions. It's amazing, even though it's a side project we get huge interested from Japan and Europe, still ordering copies of the CD we made back in 2011!
Thanks for having taken the time to answer.
Thank you, it was a pleasure.