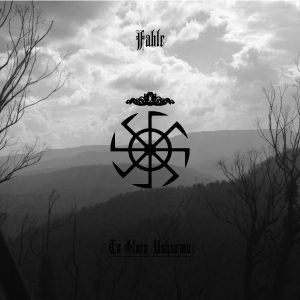 Fable, a new australian band just released its very first album on june 2016 : To the glory unknown. The album cover is a picture of an australian landscape with an embedded Kolovrat (nordic symbol). This give to us some information concerning the musical style of the band.
Heavily inspired by Summoning and Falkenbach, this first album is very bright. It delivers to us some black metal atmospheric tunes with traditionnal instrument sounds (flute), keyboard, growl and clear vocals, which give it an epic dimension.
The first track, Victory, let us imagine a nordic battlefield where hordes of mighty warriors are ready to storm their enemies, such an excellent introduction for the following ! Concerning the other tracks they're full of imagery too, remembering to autumn, cold, steel, fire… Some tracks are purely instrumental like Victory, Guardians and No tears for the past and also Twilight, the outro of the album, calling to the calm, serenity and the end of the battle.
My 2 favorites songs here are probably Wilderfolk because it remembers me Summoning, and Twilight because it's a nice outro who echos with the intro.
Note : 9/10
Tracklist :
1. Victory
2. The Star Road
3. Wilderfolk
4. Thane of Swans
5. Dawn Avast
6. Guardians
7. No Tears for the Past
8. Autumn Winds
9. Twilight