The Swedish band Havamal will release their new album The Shadow Chapter (21st May, via Art Gates Records). Thanks to this opportunity, their drummer Andreas Herlogsson answered our questions.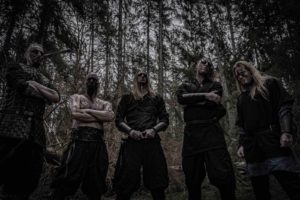 Hello! Thank you for according us this new interview! First of all, how are you? Did the virus have some huge impact on band's activities and on your personal lives?
Hello! I'm good thanks. And sadly it did. Me, Kjell and Lennie got the damn virus. Björn got the virus a short while before entering the studio. For us it was like having a bad cold with fever, including loss of smell and taste. So we got away with it fairly easy compared to what you hear from the warriors at the hospitals fighting for their lives.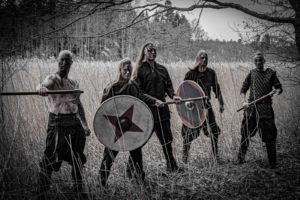 Also, we have of course, as so many others, been forced to cancel a lot of live shows and tours, and we can't wait for the end of this pandemic. For me personally, besides the virus, me and my wife just bought a house so we have a lot of things to do now when I can't be out doing live shows. We as a band, can at least regroup and rehearse like maniacs so that we can be fully prepared when the world opens up again.
So let's talk about your new album The Shadow Chapter that will be released on 21st May, via Art Gates Records. I've listened to it. It sounds great! Could you say that you improved yourselves? Do you think that mistakes that you've probably done on previous records were corrected?
Thank you! I have a really strong memory of when we started to listen to the rough demos together and started to rehearse the songs that finally ended up on the record. The memory was that we said to each other that we really had to go for it and to push our  own limit to make the best out of every songs on this album. We cannot be more proud and yes, every member have really improved themselfes on this one!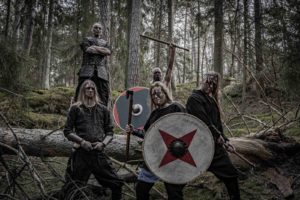 Would you say that the writing session was more challenging for you? Or do you think that everything was "as usual"?
As the previous answer, we worked really hard to make this record the best one we have recorded up to date. We pushed ourselves harder on this one compared to Tales from Yggdrasil.
Your new album is called The Shadow Chapter. Could you explain why you chose this title? Does it have any important meaning for you?
We dug deep into the darker sagas this time, henceforth the title. As we really enjoy reading about the old mythical sagas, the more important it became to write our views upon it. So yeah, it does have an important meaning, and we wanted to explore the darker sides of the norse mythology this time!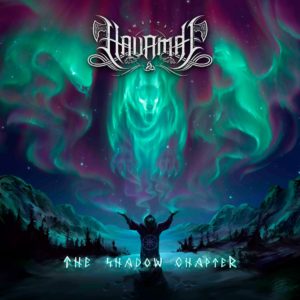 Recently, you parted ways with your bass player Sandra. Did she record her stuff before she leaved the band? Did her departure have any impact on recording sessions?
No, she didn't. But we have the luxury to have Kjell in the band! Not only can he play the guitar, but also recorded the bass on this record. And he did a tremendous job too on such a short notice! And after some lenghty auditions, we have now found a new permanent bass player in Tino as well, so Havamal is once more complete!
You recently released your first official video for "Nidhoggr". The landscape looks amazing! Where did you shoot the video? Would you say that shooting session was difficult? Did Lennie catch a cold after that?
We shot the video on an old quarry outside of Stockholm. It sure is an amazing place. It was cold as hell, about minus 10 degrees. And we actually had some problems in the beginning with the mobile powerplant which didn't work at first because of the cold weather. So we had to take the weaker spare one instead, haha! 
I think he [Lennie] pulled it off without getting a cold. But we froze our asses of I'll tell you that! But besides that, we couldn't be more satisfied with the result!
Do you think that you will do some other official videos in the future?
I would be surprised if we didn't. It was a really fun thing to do and we loved the outcome! Just keep your eyes open for more in the future!
As we're speaking now, the virus is still present all over the world. Do you have any information about future stuff for the band? For example, will you host a new live streaming?
H: We have talked about it for sure. But there has been a lot of things to do around the albums release so we haven't really had the time to really book something like that right now. But the plans are there! 
A last word before concluding?
Thank you for showing interest in us! Hail the hordes that reads this! Hail the hordes that listen! Hail Valkyrie Webzine! Hail Odins inspirational wisdom! Hail the hymn-weavers! Hail Havamal!
Thank you for your answers! Hope to see you soon on the road.
Take care, and hail from the North!
Version française : cliquer ici