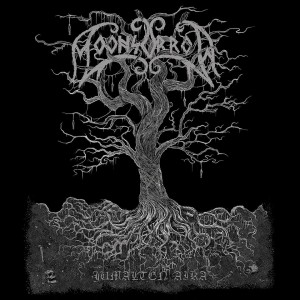 To be honest, I've only started to be into Moonsorrow quite recently. I preferred discovering them in concert during the "Finnish Folk Metal Tour" at Glasgow in April. I saw them again at the Ragnard Rock Festival this year and it made me want to have a closer look intheir last album Jumalten Aika.
Thought I'm still a beginner regarding their discography and their general artistic direction, I've noticed that some of their compositions were written and made to be listened in a specific way.
Jumalten Aika is the perfect example to me.
This track is literally like coming closer to a world until it grabs you. What happens next is like a contemplative travel where the block shaped by the guitars and the bass could metaphorically sound like a heavy and constant rain that constitutes the bottom of this soundscape. And like all the other landscapes, it is made of many levels that become gradually more complex, the last one being the most favorable to creativity. The genius of this composition reaches his height when it remains loyal to his initial metaphor by ending the same way it started.
In a word, this song was a delight and has clarified my first thought: listening to Moonsorrow is visualizing and pricking up the ears to notify and enjoy the small treasures here and there that light up the album. Especially during the respites, even if you might get an explosion of decibels in the second that follows.
Although choirs where only used as accompanying and followed the same direction as the others instruments on Jumalten Aika, they are now at the heart of the composition on Ruttolehto incl. Päivättönän päivän kansa. There are two guests, Mynni Luukkanainen and Jonne Järvelä, and it's interesting to notice that even if their respective participations have approximately the same structure, they actually sound radically different. Sotajulama's singer gives his voice to a quite gloomy and melancholic part while Jonne acts in a similar range but in more folkloric and less oppressive with his husky voice recognizable amongst a thousand. By the way, his performance at this gig in Scotland was incredibly gripping.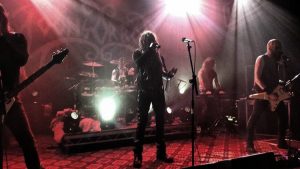 As it happens, here's the most folkloric song of the album, Suden Tunti.

Unlike the previous songs, this one starts unceremoniously with more various and catchier riffs, choirs and ensemble. They are interrupted by a duo of violin and mouth harp that sounds "shamanic" in its way and it leads to something more slowed down and ethereal with these choirs and keys melodies.
In addition to a quite utter composition, I've especially loved the outro with the Kulning singing. It's a traditional Scandinavian singing that was mainly used by the shepherds to call their herd back but also to scare predators like the wolf we can hear. This contrast is even more pleasant when you know this.
Mimisbrunn. This is a real break with everything that's been done until here. It brings fresh air with this acoustic intro which is decently developed. I've really enjoyed it because it's the kind of things that don't happen often. Especially as its melody at once melancholic and almost danceable and the other instruments merge very well together. Clean singings are even highlighted, what else could I ask for?
That's where it becomes complicated. As it's the second longest track of the album, I expected it to be more organized, which turns out not to be.
In contrast to this marvelous acoustic part, a brutal one with poorly developed melodies showed up. So be it. But that's not all, the acoustic part came back, I expected it would end with this. Then this tedious part came back too and I didn't understand this choice. I found it brought nothing another melodic impoverishment that was…completely gratuitous. Because it actually doesn't even last long despite a fading outro that gave me the feeling it would never end.
Anyway, it fell short on my expectations.
The last song of the album, Ihmisen Aika, didn't seduce me either and the beginning sounding like the one of Suden Tunti didn't help.
That said, I've noticed many good things like heavier and simpler riffs as well as some short acoustic parts inherited from the previous track that, along with the keys and the choirs, shaped the perfect melody for an ending.
The whole album gave me the feeling that the songs had been chosen in order of preference because it almost matches my personal ranking. Whatever happens, these two songs by five that passably disappointed me don't make of Jumalten Aika a bad album, quite the opposite.
Mäntymetsä.
Tracklist:
1. Jumalten Aika
2. Ruttolehto incl. Päivättömän Päivän Kansa
3. Suden Tunti
4. Mimisbrunn
5. Ihmisen Aika (Kumarrus Pimeyteen)
7.5/10