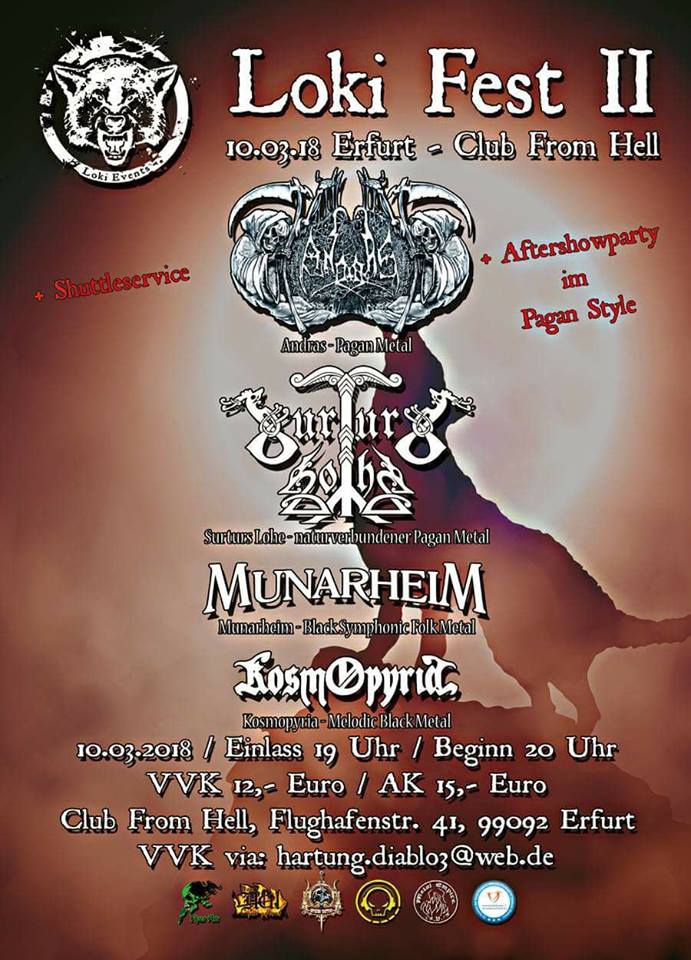 Once again, I leave for adventure, and I come back with pleasure to Erfurt in the nice German area of Thuringe. I must say that this city is combined with great memories, since it was there that I saw Munarheim for the very first time. It is with great pleasure that I come back to Club From Hell on Saturday March 10th 2018, on the occasion of the Loki Fest II which was organized by Loki Events.
It is almost 20:00, and Kosmopyria, which are from Cobourg, have the difficult task of opening hostilities. I already had the opportunity to see twice the Bavarian music group by the side of Munarheim, and yet, I really had the impression of re-discovering it tonight. The singer's piercing voice was what bothered me previously. And now, by some miracle, whether I got used to it, or whether the singer has made a lot of progress. I'd rather inclined to favour the second hypothesis, because he proved us tonight that he could modulate his voice, so much that he managed to utter cavernous growls from time to time. Even musically, I found that which caracterized the band, that is to say epic, melodic and even melancholy elements, were more emphasized, especially thanks to keyboards and choirs which were perfectly audibles. The audience was quite receptive, and a lot of people headbanged in the first rows. I particularly liked the last song, « Unsterblich », which really established a festive atmosphere, with nice dances in the pit.
SETLIST : Ungewiss / Blutantrag / Bis Zum Ende / Die Spur im Sand / Primary Fight / Heilige Sunde / Schweigen ist Pflicht / Gefallen / Barrel of Solution / Unsterblich
I haven't seen Munarheim for eight months, and I really missed them ! Yes, you understood it, for me this band is like an addiction, and it was necessary for my mental health to see it again ! I may never repeat it enough, but which I love with Munarheim, it's their gift of always surprising me. On the stage, this is no longer the symbolic bovid skull of the second album which is hung to the microphone stand, but at the right of the stage, a skull of unicorn proudly remplaces it. I hoped that the band played at least one song from the upcoming album, but I wasn't disappointed for too long because in one hour of show, all my favorite songs were played ! Of course, the rituals are always here, for exemple during « Urkraft » when Pascal is dressed with his cape of enchanter. During the great cover of « Wolf » initially sung by the First Aid Kids, Theresa wore on her shoulders a mink (I hope it was a false one). Some songs later, the live flutist, which was made-up like Pascal with corpse paints, will put on a nice white coat. The audience seems to have come mainly for Munarheim, and we perfectly show it several times. We took pleasure in singing together the choruses of « Liberté », and we asked for two songs that we particularly expected for, that is to say « The Last Unicorn » and « Nachtmelodie ». After Pascal went down in the pit during « Unter den Sternen », our wish was finally granted. My fluffy unicorn had a tremendous time during this other great cover, and so had I, since it is one of the only songs in English that I can sing without gabbling. The skull of unicorn was not here by chance, and Pascal sang in front of it at that moment. The show came to an end with the beautiful song « Nachtmelodie », when a fan went up on stage to sing the last chorus with Pascal.
SETLIST : Flammenheer / Stolzes Wesen Mensch / Urkraft / Leben / Sehnsucht / Wolf / Ruhelos / Terra Enigma / Liberté / Unter den Sternen / Last Unicorn / Nachtmelodie
I feared that the rest of the evening might be insipid after the great show of my favorite band, and contrary to all expectations, Surturs Lohe was for me THE musical revelation of the Loki Fest. From the first song, the band immediately seduces me with their vigorous black pagan metal. But Surturs Lohe really managed to convince me thanks to the variety of their musical repertory. The introductions with guitars were particularly polished, and created a mind-blowing and melancholy atmosphere. I also liked the alternation between the male singer/guitarist's voice and the female singer/flutist's one (who reminded me of Fenrir's singer), and the medieval atmosphere which emanated from that, especially during the moments with acoustic guitars. It must be for that reason that the band reminded me of Darkenhöld. It was a great discovery for me, I will see Surturs Lohe again with pleasure if I have the opportunity !
SETLIST : Der Kaiser im Berg / Lohe Surt / Sumar kehre heim / Unter der Linden / Seelenheim / Der Schleier der Skuld / Abschied / Schildwacht / Walhallaerben / Kriegslied
Unfortunately, the eight-hour trip began to take effect on me, and tiredness seized me when Andras was about to play. I stayed for the first two songs in order to have an general survey of the band's musical style. During adjustments, judging by the guitarist's appearance, we might have to deal with true black metal. And yet, even if Andras was by far the most violent band of the evening, the whole was softened by keyboards, and the singer alternated between black and clear voices. I am really sorry that I could not stay until the end of the concert, but what I could see made me at least want to explore the band's discography !
SETLIST : Im Schatten der Flammen / The Pillory / Listen to the Cry / Der Raubschütz I / Der Raubschütz II / Flames of Hate / Warriors Hill / Diabolical Christening / Altar der Finsternis / Haamit
Thank you very much to the Loki Fest for the accreditation and for having organized that great concert, and thanks to the four bands for their contribution !
Fée Verte