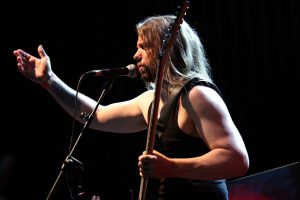 On the occasion of the Iberian Warriors Festival in Zaragoza last week (live report here), I had the opportunity and the honor to ask some questions to Heri Joensen from Tyr and also to take stock on the forthcoming album among other things.
I thank the staff of the festival for organizing as well as Heri for his time.
How's this Spanish tour been so far?
Very good, maybe not the biggest shows we've ever played but the halls have been pretty full. The audience response has been positive as well even though they are small halls.
We haven't heard a lot from you for a while. You've played few gigs here and there, you've worked on the new album and now you have a new Booker and manager, that's it?
No, we don't have a new booker and no manager. I do all by myself now.
Up to this time, we've been pretty quiet because we've been trying to finish the new album. But as we're still at work with it, we had very few shows until there.
The booking agency (ITP Promotions) directly asked me if we wanted to do a Spanish tour and that's all it's been about.
The plan is to make the new album before we have a new booker and to see how the booking goes after we release it. Right now, were keeping the shows at the minimum.
You've also announced a young guy from Finland as the new drummer, Waltteri.
Why didn't he come on this tour?
Waltteri wasn't our steady drummer, he was just the basement. We had several options to choose them and for other reasons we chose different drummers for this tour.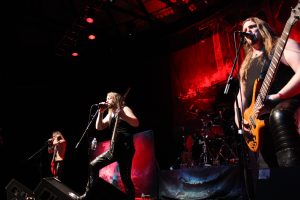 Talking about the forthcoming album, you said that the work of composition would be divided between you, Terji and Gunnar.
Did this happen spontaneously or was it a decision you made little by little?
No, because if you look at the last album, Terji made two songs and I don't think Gunnar did anything on this one but we did talk a lot about it for a long time, to divide the songwriting more between band members.
Regarding the lyrics, you often seem to write about things that marked you like some quite recent events.
Do you already have an idea of the theme of some of the future songs?
Yes we do, we have a concept.
I have some general outlines of the storyline and the subject of the album.
There is at least one song in Faroese on each album.
Do you always get inspired of traditional ballads or are there songs you've entirely composed?
We mostly use traditional ballads and their melodies because they come with the texts. But sometimes I write texts in Faroese, not very often though.
On the last album there is one song, « Fánar Burtur Brandaljóđ », which I've written in Faroese, and it's not very often that I do that. Most of our Faroese lyrics, it's traditional lyrics.
On the new album, there will probably be one or two songs in Faroese. One is definitely with traditional lyrics and I will see how the Faroese rights and the production in Faroese are, I don't know yet.
Either way, is it especially harder than in English?
It's much more difficult because I'm used to hear Metal in English since I listen to it.
And the length in Faroese is much more demanding and much more difficult, I'm not used to hear Metal in Faroese. So it takes a lot more time and efforts, that's the main reason why I don't do so much.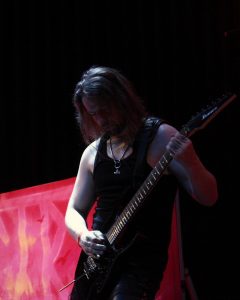 Valkyrja

turned three years old few days ago.
After months spent far from the stage, was it difficult for you to choose which songs you should play and try to renew yourselves?
I didn't think about that, we sorta have a steady setlist and we slowly change it all the time.
Few weeks before this tour we were in Riga in Latvia playing two shows, we took that setlist and that's the one we used for this tour.
So it's not a lot of thoughts about it as we don't often do that, it's very easy.
For your future shows and tours, would you put some old and less famous songs to your setlist?
I don't think so, I think it's better to play songs that are the most popular and maybe two or three songs from each album that everyone wants to hear.
I think it would be stupid not to play all these songs, even if there are probably a lot of songs that will never be played unless there is a very specific reason.
Is it too « risky » for you?
Yeah maybe, I'm not really sure. It would take a lot of work for us to play a song for the first time.
And that's it, we don't do that a lot. I don't know what risky would be. Possibly that would be fine, it's just more work for us. But it's not anything that we would do at the moment.
Well, I think that's it. Thank you very much!
You're welcome!
Mäntymetsä.
Find Tyr on Facebook and Youtube.