After the release of Kyrr, their excellent second album, we had the pleasure to ask some questions to the great Birgir Þorsteinsson  from Kontinuum !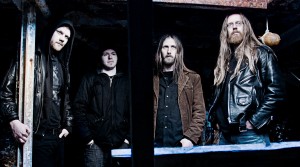 Hello guys! First of all, thanks for agreeing to answer to some questions!
No problem. Thanks for your interest.
Your first album, Earth Blood Magic , has been released in 2012, and you've been touring a lot after it, are you ready to hit the road again ?
Actually we did not do a lot of touring after our debut. We have played alot locally but very little in abroad. This is simply due to finances. Continental european bands can more easily just jump into a van and play a few countries. This is more expensive to us. We are working on these things now. We have a good European booker. We will see Europe soon, nothing i can talk about im afraid just yet. Talk to your local promoters!
How could you describe your new album, Kyrr? You chose to write your lyrics in Icelandic and in English, is that in the purpose to promote your native tongue and at the same time, reach English speaking people?
It is an honest album. Its real humans without any pretentions. This is primary aim, anything else is packaging. With influences from all over the place. Having the album in two languages just happened. When writing the vocal parts I took a long time just singing along the tunes. Finding the feeling and concepts. Either it came out in english or icelandic. There is something within the songs and concepts that calls for it. It was nothing intentional. Both are familiar for me to do. I really just tried to stay true to my first instinct when it came to lyrics concepts and language.
I found Kyrr a bit different from earth blood magic, what was your main source of inspiration when you composed it?
We would not want to do the same album again. Life is a journey, musical output is a representation of a particular time in that journey, its not unusual that you may find yourself in a different place. So much of the reasons was just that. Natural progression. But also because that this album was a collaborative effort, more people pitched in on the album.  We wanted to give an honest album, a more grounded album. That felt right at the time.
As I said before, some of your lyrics are written in Icelandic, could you explain us what they are talking about, and why did you choose these specific songs more than others to be in Icelandic?
This album is not a concept album so all the lyrics are not purposely linked. I did however some reading into explorers and found a connection with that mindset while writing the lyrics. Explorers go out and take on huge tasks for no apparent reasons. Only because they have to. The lyrics often deal with a human struggle of some sort and our position in society.
I didn't find any information about a tour to promote the album; will there be some dates in 2015?
We will see Europe this summer. The dates are not yet ready to go public. There are just a few dates confirmed.
Have you ever been in France? Is there any particular place you would like to play?
No. We would love to play anywhere in France. We would play in your grandmothers living room if given the chance. Talk to you local promoters!
Some names come to my mind when I'm thinking about Iceland, like Solstafir, Skälmold or Sigur Ros, according to you, what is so special about the Icelandic scene?
It is small. There are no barriers. The electro, indie bands and the metal bands are pretty much all friends. We don't have a genre barrier. I also think that in general musicians are respected in iceland. It is very common for people to play an instrument or do something creative. This support increases the time people stick to their creative art and thus increases the chances of people actually publicising their creative effort and being any good at it.
A final word for the Valkyries Webzine Readers?
Check us out if you haven't. Thanks for you support!
You can find our review of Kyrr right here :