Deathslid and Thrall met Robse and René from Equilibrium at Festival de Chair et d'Acier May 9th.
Hey Equilibrium, we are Valkyries Webzine, a Ffrench webzine specialized in folk pagan metal. How are you doing ?
Very well !
What are your impressions about Festival De Chair et d'Acier so far ? Have you been to the medieval market ?
So far the festival is very cool : great sound, good food, and good beer too ! The medieval market is also awesome.
Your show here tonight is your second date in France since your last album was released. You played in Paris in October 2014, why only two dates in France for now ?
Why not ? (laughs)
No, seriously, we'll actually be back in France next Fall in a city called… (René thinks) Sélestat. Yes, that's it Sélestat.
Oh, that would be for Rock your Brain with Epica and Eluveitie ?
Yes, in October. Actually we just got the information saying we were almost sure to play there !
Have you played other shows as headliners this year in Europe, apart from De Chair et d'Acier ?
Indeed, yesterday for instance we played in Germany, in Trier. Otherwise the band was included in the lineup of several festivals such as 70k of Metal in January, or Karmøygeddon in Norway in early May.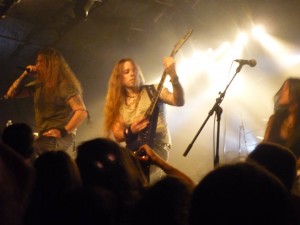 What's the atmosphere like in the band since you got the new lineup ?
We are very glad to have them with us. We are a new whole band again, with all the staff who is supporting us. It's like a big family, it's fun !
Do you have any news from former band members Sandra and Andreas Völkl ? Do they keep on doing music ? Do they have bands ?
To be honest, we don't have much news about them since they left, so we don't really know about it. What we know is that Sandra is with child. This has nothing to do with music, but it remains important for her and for us.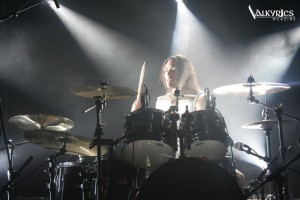 What do you think is the response from the audience to your latest album Erdentempel ? Either in Germany or elsewhere in the world.
Of course we can't say about every country in the world, but we constantly keep an eye on our Facebook so we can have a glimpse of what the reactions are through the world. To what we saw, the huge majority of people did like it ! That's a good point !
Lets talk about the composition process for last album. Was it different from previous albums or quite the same ?
(René) Not really. It took less time. I composed several songs within a few months, and most of the album was composed in half a year. This work was really quick. Then we focused on recording at my home, with some packs of beers so as to work in a relaxed atmosphere (laughs).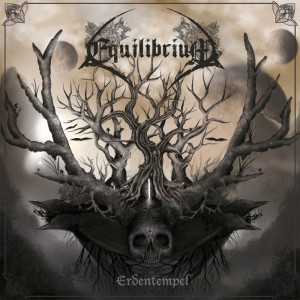 Who, in the band, composed the music and the lyrics for Erdentempel ?
(René) I did for Erdentempel. For Rekreatur Helge and Andreas did (former vocalist and former guitarist of the band).
How do you compose a song ? Do you have influences such as games, movies… ? You are great fans of Skyrim, aren't you ?
We are. When we started Equilibrium, of course we had some musical influences like Dimmu Borgir, Maiden, particularly for their impressive riffs. For Erdentempel, influences were put apart, and composition was really based on my feeling. Like when you play a game on a computer and you have the feeling to simply write what you feel at that moment.
Maybe that's because you are more experienced in composing if we take a look at the evolution of the band ? More experienced in the way of doing it, but also in the artistic direction you want the band to take ?
That's it. Today it's easier for us to say what we want to transcribe in our music. The time when we had to try again and again is over. We now know what we want.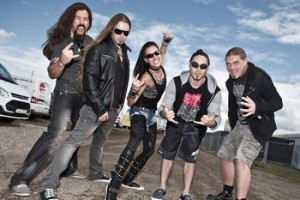 What can you tell us about the storyline of this album ? It's artwork ?
The album was greatly inspired by Mother Earth. She gives us all it's energy and we think that in our days, mankind is losing it's connexion with her and environment around her. The lyrics are about positive things such as bravery, strength, but also negative things such as destruction. In the track Apocalypse for instance we protest against the fact Men simply destroy the world in which they live.
Are there any references the Germanic mythology in this album at all?
There are a few but for Erdentempel we estimated it was more important to stick to themes that are more personal and important to us.
Lets talk about Wirtshaus Gaudi. Is it an invitationn to drink to your fans ?
(laughs) In fact, Robse says that his own life is summed up in thhat clip. (laughs). It's really fun !
Bass player from Sangdragon, Will Hien comes in at that point and asks his question with a huge smile : With Wirtshaus Gaudi, aren't you afraid Equilibriul may become a « fun » band ? Because Equilibrium is not all about fun !
That's true. Actually about the video clips planning, we were originally supposed to shoot two, but since the release date of the album was anticipated so we lacked time. A second video clip would have been filmed to show the two sides of the band.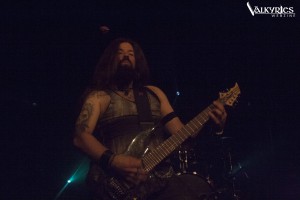 People clearly perceived the « Korpiklaani-like » side of the video.
True. If you take just that song apart from the rest of the album, it's a party song. But for next video we will make sure to show a more serious aspect of the band.
Met was also that kind of song, with it's very catchy and party like aspect.
Indeed. From time to time we try to mix this festive side to more melancholic and epic aspects in our music.
Are people playing in that video friends of yours ?
Yes, the guy in charge of the filming is a good friend of us the the shooting of it was really cool, with motivated people who had lot of fun.
What about the girls in it ?
(René) One of the girls is actually my girlfriend ! (laughs)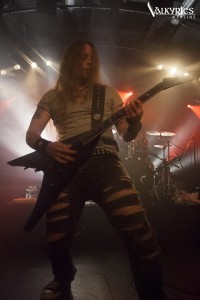 What do you think about the pagan metal stage today ? It's being more and more important, what do you think about it ?
(René and Robse think for a while)
Will Hien adds : Do you think this stage is growing ?
It definitely is now.
And why that ? Why now ? Do people need to have this kind of music to have an escape from everyday issues ?
(René) I don't think there is anything special about that. It's simply everyone of us to get the consciousness of the importance to stay connected to one's roots. It's a very positive point to see all these people think about such important subjects and respect this kind of things.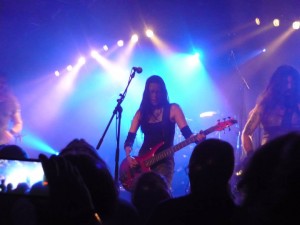 Do you have something to say to people who consider that folk fans are only drunkards ?
(René) Of course there is not only this drinking aspect in our passion. To me, the most important thing is this love for nature, and the romantic and poetic side people have with their surroundings.
Alright, this interview is over, do you have anything to have to your fans and readers of Valkyries Webzine ?
(Robse applauses, laughs)
Well, we are very happy to be back in France (follow several tries from René and Robse to pronounce France). We really like this country, its fans. They are always very nice and we are really expecting you for our show !
Thanks a lot guys !
Thrall and Deathslid.
Find Equilibrium on : Official Website, Facebook.