Interview de Cerevisia
Réalisée par Morrigan
Your debut album has now been released for two months, and the critiques are excellent ! Congrats ! How does it feel to have this album out at last, after having been postponed quite a number of times, and other issues if I'm not mistaking ?
That is true we had some hitches for this release, but even if it's frustrating to see your album being postponed we had no deadline about the date, it was just our patience that was severely tested!
But in regard of the critiques, it was worth it. We were not expecting such a good welcome, it surprised us and made us happy.
What are you most satisfied about for this album ?
I think it is the fact that it is a "whole". There's a piece of each of us on this opus, and the fact that the album was very well welcomes gives us the impression to be part, even at a very small scale, of the metal world we love so much.
In regard of composing, how does it work in the band ? Do you each come with your own ideas and put them in commin, or you compose all together ?
At first, we compose each by ourselves, and we suggest an alpha to the rest of the band. This one is approved (or not), and starting from here we gonna learn it and turn it into something new all together so as to make something everybody will be happy with. Like a beta step (even if it sounds a bit "geek").
This way, we manage to obtain a guiding line in the song, like in a novel, with chapters written by everybody.
After that, concerning the lyrics, it depends. Either the music gives inspiration Stéphane (singer) and he writes following what he feels, or either a theme is decided in advance, and the music is created following this theme previously established.
Can you tell us a bit about the history of the band (even if it's very recent) : how you met each others, what made you start this band, what bands influenced you, why pagan-death ?
The band was created in 2010 by Marty (rhythmic guitar) and Maxime (bass) who had known each other since middle school, just after their previous band had been a failure and wasn't very ambitious, they thought they would make a new band that primarly was supposed to be something more orientated melodeath metal in Amon Amarth style, or folk metal, getting a lot of inspiration from Ensiferum, in two years the band was able to find the musicians it needed, and thanks to this rapidity, the composing work could start soon. But the lineup has experienced a few changes, and the actual onne was born in 2012. Since that date, the band started to be more mature in its compositions, we had in mind to make more elaborate tracks, and we'll follow this path going more to melodeath and taking distances with pure folk metal.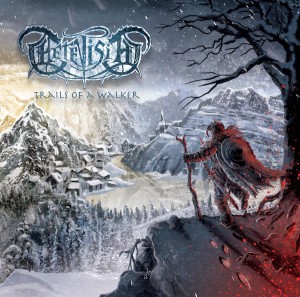 Lets now talk about the concept of the album : this one tells us one big story if I understood well, but you have to read the lyrics very carefully, otherwise, so did I, at first listening you don't get it. So can you explain and tell us the story Cerevisia sings to us ?
Cerevisia's concept revolves around one character: the "Walker". He is between being a warrior and a skald, this character goest from village to village to tell stories around a fire and ale.
But the Walker is chased by a creature which is the Nightbringer, we can hear about it in "Summon the Nightbringer" or "The Walker", and who knows, this monster may be in search for glory and owning the body of our dear heroe, or maybe a heavier secret is hiding behind those two characters…
This way we could take inspiration in several folklores (celtic, saxon, scandinavian…) and to have a governing principle : this mysterious man who seems to have experienced the stories he is telling.
So this album tells several stories, going from epic battles ("Heroic Charge"), to drinking songs ("Once a Night").
However, if you want to know precisely who are the Walker and the Nightbringer, you'll have to wait for the next albums!
What mattered most to you on this first album ? If you had to choose one word to describe it, which one would you pick ?
What we were expecting (and fearing…) the most was the welcome the album would receive. We are open to any criticism, and we do what we do to have fun before all, but we also want to share our passion, on stage as well as in your speakers!
If we had to pick one word? Hmmm…
Marty : unpredictable, since the songs are diverse, and the themes are all different.
Maxime : surprising, the album was very well welcomes, and we weren't expecting that, moreover the album itself is surprising by the story it tells and we created ourselves around the Walker.
Stéphane : achievement, we tried to find ourselves, and now the album is out, we know what we have to do, and we have a very different way of doing things as we did at the beginning. This album made us be more mature.
Anthony : adventure, the Walker make us live his adventures in each track.
Johan : universe, we tried to create a universe we like and to bring you with us.
Aurélien : diverse, the songs each have their own story and we weren't afraid to vary musics.
One favorite song, or one you are particularly proud of ?
We like all our songs, but some more than the others. We particularly like "Heroic Charge", its military rhythm and the synth in intro and outr which really highlight the fact of telling a story : introduction, development, conclusion. "Summon the Nightbringer" too because the "Finntroll aspect" of the songs breaks up with the other songs, and it's a really fun one to play.
And what about the artwork ? It's Slo Sombrebizarre from Metal Maniax who designed it (wonderful work by the way), how did that patnership happen ? How did the idea of asking him came out ?
Johan : I've known Slo through his blog "MetalManiax" with Fef. I quite liked what he did, and when I saw he had done the logo of another French folk metal band I was following (Drakwald, go give them a listen), I got in touch with him to ask if working together would be possible.
He first did the helmet of the Walker and the band logo. We were very happy with the result, so we decided to ask him to do the cover. And we weren't disappointed!
On his side Slo was very cool, he is someone who love his work, and who knows the world of metal well, so we never had bad surprises. We are planning of keeping this collaboration alive, drawing vikings will change him from zombies vomitting through their asses!
One thing that struck me quite a lot when I got your album, is the quality in production ! It's pretty rare to have such a good production on albums by French pagan bands… Who did you work with? Can you briefly describe the process to us?
We are working with Thomas Tiberi, we recorded the instruments one by one of course, he allowed us to make our playing and our composition more mature, Thomas didn't only do the work "we are recording it's ok…", he gave us advice on each track and we did the studio arrangements (harmonies guitar/doubled singing, etc…). Once the takes done we left him doing the mixing, which was not simple in regard of the number of tracks on some songs! The synths were recorded in midi and we used the software "East West Orchestra" to add the various sounds and choruses. The studio made us grow and be aware of many things at a musical and interpretation level.
Lets move on and talk about live performances. Unfortunately many planned shows were cancelled for totally outside reasons from Cerevisia, BUT you still gave a great impression at Hell'ectric Warfest, in which you played along with Hypocras or Nightcreepers, which are well-known bands in pagan. Tell us about it!
That is true those last days, the Gods of live weren't on our side, with several dates cancelled. But hey that's part of the game.
The Hell'ectric was for us the occasion of playing with other more known and experienced French folk metal bands. That was a real pleasure to share the stage with them, and we also created bounds with them. The backstage atmosphere was really cool, they were very nice. We kept in touch with them, because in addition of having enjoyed playing with them, they are awesome people.
So what are your plans about live shows then?
Before the end of the year, we will try to make a few shows in order to play live what people heard on CD. Our goal right now is to try playing outside Marseille since we hardly got the occasion of playing somewhere else.
In the same time, we are slowly starting to work on our second album, so as to show we are not staying on our position and we want more. Moreover, we are still, for most of us, students with very low budget, so we prefer to take our time.
The live performances will come for sure, but better be patient and be sure to do things well, than to speed up and do things wrong.
Are there artists you would like to work/share the stage with?
Play with Nightcreepers again would be great. Then, France got many pagan bands even if it's not the most important genre, and there are plenty of bands we would like to work with : Drakwald, Fenrir, Unrest Fatalist, Cave Growl… why not the Spanish guys from Northland too?
Otherwise, opening for bands like Ensiferum, Finntroll, Arkona, Trollfest, or Amon Amarth would be an achievement, but here that's a dream.
These are really promising debuts! People see the quality where it is, and at Valkyries we see some there! Also you managed to gather many fans very quickly, and many bands don't manage to do that, how did you do to be so efficient?
Playing in Marseille got advantages. Even if we are a bit far from the other bands who mainly tour in the North, the South-East community is quite solid. We all know everybody else more or less, between bands or between bands and fans. So the through of mouth works very fast and we can take advantage of that, and have a strong support from metalheads from Marseille and around who spreaded us a lot. I take this opportunity to thank them all/
We all have a lot of ambition for the band, which is much more than just a hobby, for these four years we built up a family made of 6 persons who is only willing to show what she got!
Thanks for your encouragings, we are not to stop now and there!Congrats again for this album, and thanks for this interview, we wish you to go very far! I let you have the final words for people following and expecting you!
As a conclusion, we won't be original, but this remains very important for us : thanks to everybody who follows, supports, advise, came to see us, and also all of those who listen to us. If you liked "Trails of a Walker", we hope you will like as much what will come next, but we can already promise something to you : your head's gonna move!