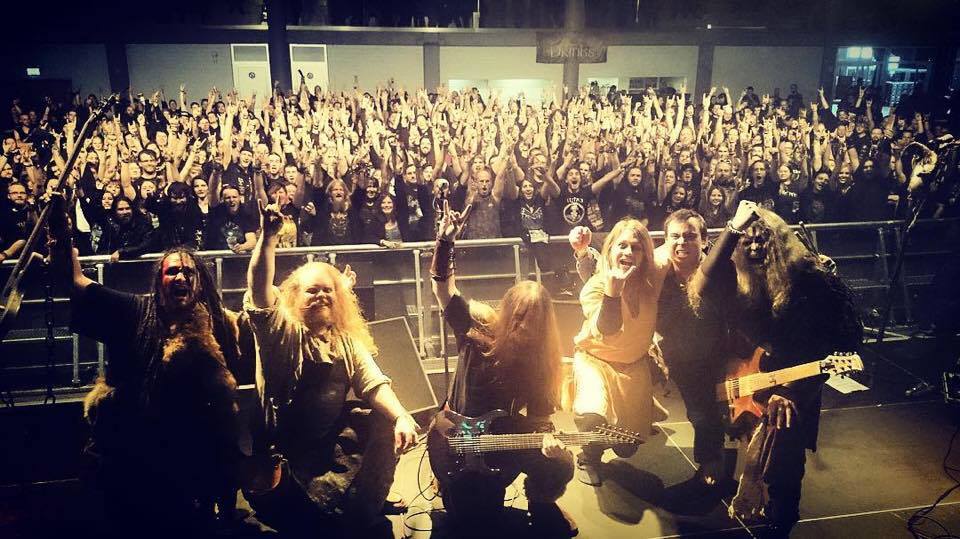 After Grimner's show at the Ragnarök Festival in Germany, I had the chance to meet all the members of the band and to ask them some questions !
Hi Grimner ! First of all, can you introduce the band ?
– Oh yes !
– My name is Johan, I play the flutes, also the mandola, bagpipes.
– So everything ! I'm not that guy !
– My name is Henry, and I play the drums.
– I'm David, I play the bass.
– I'm Marcus, I play the guitar and clean vocals.
– I'm Ted, and I growl and play the guitar.
– And I'm Kristoffer and I play the guit … keyboard !
Why did you choose to call the band « Grimner » ?
Because it's a name that Oden goes by when he walks among humans, and we felt it was appropriate for our concept since we explore the bond between gods and humans from many different perspectives !
For people who never saw you in live and who weren't here today, can you describe how your shows look like ?
Energetic ! And joyful I guess ! And a bit angry ! We try to establish a connection between the audience and the band and to have a good time, to bring dance. We want to be quite dynamic, as the show, like it has both the power and like the joyful-like singing jumping moments. So we hope we made this happen.
It must be quite symbolic for you to play here because your new album is based on the story of the Ragnarök. How does it feel to play in such a place ?
It's incredible. Like it is in Germany it's really an awesome place. Every place in Germany is pleasant, it's a good audience for this kind of music. We have never been here before, so it's really fun to be here. It's great, absolutely great.
I was evoking some minutes ago your new album Frost Mot Eld … I don't know if I pronounce it properly …
It's the best pronunciation we've ever heard !
… so which is released one week ago. First of all, what does the title mean ? Because I don't understand Swedish …
It means « Frost against fire » !
And I suppose you already had feedbacks on the new album, are they positive ? I think so !
Oh yes ! The mainstream media say it's a good album, and the folk music media loves it !
At the beginning of your career you sang in English. Since your 1st album Blodshymner you decided to switch to your natal language, Sweden, was it a wish of feeling closer to your roots ?
Singing in English didn't sound right, and Swedish makes the music more authentic.
[One of the members to an other one] – I had to persuade you for that, because you didn't want to…
– No no no no no ! Not in the beginning, I thought it was a good thing, for the commercialism.
– I don't think we have already heard somebody complain about the fact we sing in Swedish.
You put an end to your collaboration with the Russian label Stygian Crypt Productions, with which you released Blodshymner, and you've begun a new one with the Swedish label Despotz Records. How does this new collaboration happen, are you satisfied with it ?
– Despotz Records are very nice to work with, they make a good promo job …
– And they make us earn money !
– They have a more modern approach, they are very good at promoting !
Can we consider Frost Mot Eld as a concept album ? Was it the case for Blodshymner, was there a main theme ?
Blodshymner doesn't really have a main theme. We just took songs that we had for years and we put together for an album. Some new, some old that we mixed together for our 1st album. But Frost Mot Eld is definitely a concept album.
What are the bands which influence you ? I especially think about Finntroll, Manegarm and Metsatoll when I listen to you, do you agree ?
Yeah, Finntroll and Manegarm ! But it's interesting because it depends on where people are from, they don't refer to the same bands. For instance, in Sweden they always refer to us like Moonsorrow, but there are other bands. Some say we're a kind of mixture between Turisas and a bit of Korpiklaani.
By the way, which bands would you like to see during the festival ?
Definitely Eluveitie, I've listened to them for so long but I've never been able to see them. And Manegarm and Thyrfing.
Let's talk about gigs now. You played in Sweden, Finland, Denmark, Germany, Belgium, the Netherlands. Is there a place where you particularly want to play ?
We try to play in France, they want to book us but they can't give us enough money, we have to plan a tour, something like that. We also would like to go to the US, the UK. We want to go to new places, even if it's west, east, north, south, whatever. But the next goal is the UK.
And for the moment, in which place do you prefer playing ?
Germany, it's always good, that's why we've planned a tour here and in Denmark. But it must be cool in England, especially for free beer and the bars !
You were in support of great bands such as Korpiklaani, Vorna and Frosttide last year, how did it happen ?
For Vorna and Frosttide it was a cooperation with a Finnish booker. We only toured with Vorna, it was like an exchange show, we did some shows in Sweden and also in Finland. For Korpiklaani, they were coming to Sweden and they didn't have a support band, and they thought « which band would suit better than Grimner ? ». It was fantastic !
I know you will be at the Hörnerfest in Germany in July, have you planned some other gigs and what have you planned for the times to come ?
Actually yesterday we announced a small tour, a week tour. At the moment we don't have any confirmation, but we plan something for next winter.
I would like to talk about your first clip, « Eldhjärta », which was released in last February. Can you tell some words about it and do you plan to release a new clip later ?
The recording was great, we would like to do another one, definitely ! That recording took place in a cold area, it was raining and snowing all the time, on the guitars. We're really satisfied with the result of the 1st one, I think we've reached 2,000 views, so that's pretty good, we're very happy. The result is the one of a very professional video, it's a pretty big thing. As it was our 1st music video it was a good experience !
You released an acoustic EP De Kom Fran Norr last year. This is very different from what you did before, it must have been a kind of challenge !
Yes, I guess it was a quite different from what we normally do, but we played a lot of acoustic shows in streets in the past, like troubadours ! So it came quite naturally. We also played in a small medieval festival in Sweden, and we made a Manegarm cover video acousticly, and it got a lot of views and comments, people really liked it. And we wanted to release something before the new album, it was something for the band.
You're six in the band, that's a lot, how do you proceed to compose your songs ?
[Les musiciens désignent Ted]
Dictatorship, yes ! I write all music and we all gather together when we rehearse, and we talk about it, exchange, it makes the thing more interesting and dynamic. And I usually write the lyrics.
Thanks a lot for having answered my questions, do you want to add something to conclude the interview ?
Buy our CDs ! And thanks a lot for supporting us !