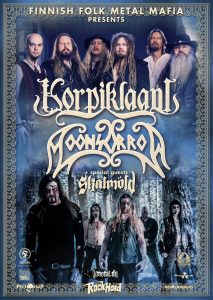 Earlier this year, the super tour of Korpiklaani and Moonsorrow announced a second part for this fall. Mainly based on eastern countries, it stopped very close to France at the Docks of Lausanne in Switzerland and Gothmog and I were here.
Unfortunately for us, we didn't start the concert in the best conditions: we arrived late and we only attended the last song of Skálmöld.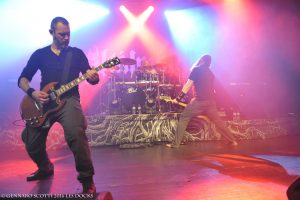 Although I was not really seduced by the few I had listened of this band and that the announcement of their participation to a tour called "Finnish Folk Metal Mafia" slightly made here bat an eye, I must admit I was pleasantly surprised.
These Icelandic have their very own way to sound when they sing in unison. Unlike what we're used to, we can make out many voices and personalities, which brings a little extra. From my point of view, this bands looks pretty interesting in concert, in fact more than in studio. Too bad for this time but I intend to develop this track as soon as I'll have the opportunity.
(More Skálmöld pictures here.)
Next comes Moonsorrow, which we had both already seen.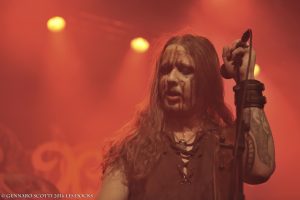 They start right away with the inescapable "Jumalten Aika" and… And nothing. The Swiss audience turned out to be incredibly sluggish this night, be it for this first song or basically the rest of the show. It's been quite a hard job to wake them up, unlike what I had witnessed in Glasgow.
Apart from this, the setlist was great though it was similar to the past ones. There were of course most of the songs of the last album as well as "Ukkosenjumalan Poikka" but there was one I didn't know at the moment and which marked me, "Raunioilla", where Janne Pertillä starts singing in duo with Mitjä Harvilahti.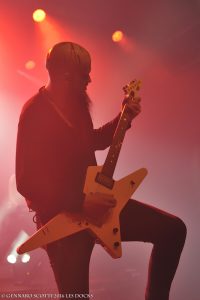 All the musicians were in good shape and Waltteri Väyrynen did a great job at drums and choirs, where he actually replaces Marko for few gigs.
(More Moonsorrow pictures here.)
However, I can't completely say likewise for Korpiklaani.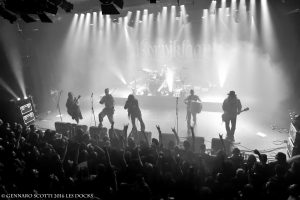 Despite our stiffness and our tireness, they succeeded in waking us up and making us move in few notes with the catchy "Viinamäen Mies". The gig was in full swing when Jonne almost lost his voice on "Ruumiinmultaa". Small mishap easily forgivable to me, the rest of the band carries on with an incredible performance of "Vaarinpolkka". By the way, it's nice to see the shamanic Tuomas Rounakari back on stage. Even if we couldn't always hear his violin properly, he had no difficulties in backing vocals and dancing while playing.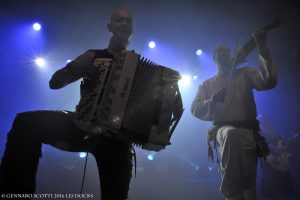 On the whole, I've been blown up many times by the stage presence of Korpiklaani. Seeing Cane playing "Kultanainen" or any other song is a delight, Sami is the first one to make us clap our hands in rhythm and Jonne, stop running you fool! People can say whatever they like about his way of managing his voice but his stage persona is impressive. He has such a way to perform songs that it gets close to acting to me.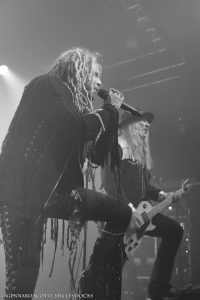 And here's the heavy and stifling "Sumussa hämärän aamun". Commonly less appreciated and less understood also, it's a song I always enjoy in concert, more than listening to it in studio version. However, it's much more difficult to follow the band when they play two nearly unknown songs in a row. I had understood their approach of daring playing songs of an unusual register but here, they've lost me. It's partly for this reason that this Korpiklaani show is personally not my favorite.
(More Korpiklaani pictures here.)
Anyways, we still had a very good night. It was the first time for me in Switzerland and even if the venue was quite small, I enjoyed its different parts like the floor above the scene. The security was there but not invasive. Some of them have been really brave to pick up the crowdsurfers while there wasn't even a meter between the security barrier and the stage. In any case, I wish I'll come back soon and I recommend this venue to those who haven't been there yet!
Mäntymetsä.
Links: