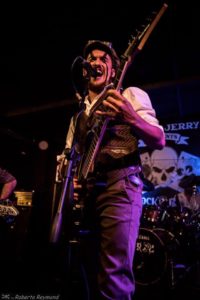 Hello Samuele! Thank you very much for according me this interview!
First of all, I think that there aren't a lot of people who know Atlas Pain. Could you please introduce yourself and introduce the band in few words?
AP : First of all thank you for giving us space to talk a little bit about ourselves! We're Atlas Pain, an Epic/Pagan Metal band from Italy, that's trying to spread its music with fewer wounded possible!
Our music is a mix between catchy melodies, aggressive riffs and majestic orchestral arrangements, we're trying our best at least…
Atlas was a Titan who was condemned by Zeus himself to hold up the sky for eternity. Did you take the name of the band from that story? Finally, why did you choose to put the name of the band with this character? Are you passionate by Greek mythology?
AP : Actually the story is the one itself. Our name refers to the kind of music and emotion we imagine while playing it, epic and direct. It also matches perfectly with our idea of storytelling.
Since the first days of the band, we tried with our lyrics to tell stories about our world. They could be legends from Africa, myths from Greece or just simple fairy tales, it doesn't matter. Anyway that doesn't make us passionate of a specific mythology, just simple musician who like telling stories.
We can see that there aren't so many Italian folk metal bands. We know of course that Nordic countries (like Finland, Sweden, Norway…) are specialized in this genre. So at your beginning, were you afraid to make a "copy paste" of Nordic style, despite your Italian origins?
AP : Not at all actually. One of the best aspects of this modern world, concerning metal music, is that we're all able to write our own songs while listening and taking inspirations from different genre and other bands, from all over the world.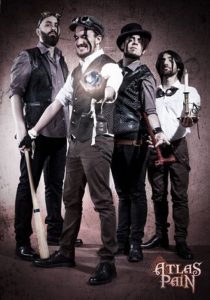 All of us in the band listen to different styles of music and concerning me I've always been a fan of pagan, melodic metal in general and symphonic music (cinematic scores, John Williams, and so on…). That's why it become natural to write specific songs so similar in culture to the nordic ones.
Sometime ago a reviewer got surprised discovering us as an italian band, 'cause we sounded "finnish" in his mind. Always listen what you think it's better for you, what makes you feel emotion. We just make our ideas into music.
"What the Oak Left" is your first album released last year. Could you explain what does mean the name?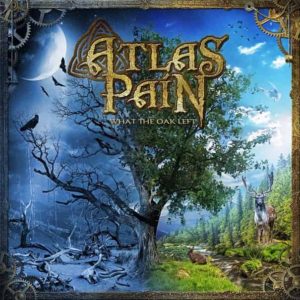 AP : I could start telling you that we've always been in difficulty trying to find out the name of the genre closest to what we sound like. Someone says pagan metal, someone says power metal, someone says Disney metal, whatever…
Anyway we just wanted to bring "something new" to the past music, the one written by the band we inspire from. It's not a refuse, completely the opposite: we use the modern sound, talking about synths, loops, digital rhythms, and melt it with the classic one, the "folkish" one.
That's what the Oak, the past, a wisdom symbol, gave us as heritage to transform it as we think it should become.
You signed a deal with Scarlet Records in July 2016, immediately after you enter studio for the recording of your first full-length. How did they contact you?
AP : They simply wrote us and told us they were interested in our music, knowing our plan concerning the future release, the new stuff and our concepts. We talked a lot in their headquarters, discussing the different possibilities of promotion in a brainstorming of ideas. They are such great guys, professionals and completely reliable. We couldn't ask for more for a record collaboration.
You spent a lot of time to record your first album (I've seen that you entered into studio in May 2016 and released the album in March 2017). Is it because of your professional career/studies? Or did you just want to "take your time"?
AP : Actually it last a way shorter period. We started recording some few pre-productions in May 2016, that's right, but the official recording process took place in July 2016 and ended at the beginning of September. We just take the months between the end of the recordings and the date of the release as time to plan everything at the best.
Concerning the studio, we worked with Fabrizio Romani at the Media Factory Studios here in Italy that, with patience and seriousness, spent so much time to sculpt every note of the album in the best way possible, pushing us to play more and more, looking for the best tone we  could get. It was hard but it has been worth it for sure!
What about the writing process? Who's writing songs in the band? (I guess you are the main songwriter, right? ;))
AP : You're right, that's me, ah ah ah! We always start from me writing down the lines of the song, then we talk each other in terms of arrangement, finding the perfect way to "adapt" every instrument line to our own style. So we bring the song in the rehearsal place and, after practise, the magic is done!
Where do you take your inspiration? Which subjects inspire you the most?
AP : Sincerely I don't have any specific inspiration form. I live my day in the most normal way possible, having a walk around, meeting friends, do some work, usual stuff.
But if there's something that I could never forget at home is a mobile recorder, so I can write down (with my own voice, what a scene…) a specific line in my mind, without losing it forever. Carpe diem, we use to say, ah ah ah! Then, in a second time, I compose those lines on my computer in my home studio, developing them step by step.
I see that you're wearing steampunk costumes at stage. Does it have any particular meaning? Or is it just in order to represent the "cinematic part" of your music?
AP : You got it! As I said before we like telling stories without any bond. We do not tell about viking wearing armors, neither talk about Scotland wearing kilts. We wanted to look for a stage outfit that represents our idea of storytelling, kind of a time traveller, without any specific category. It makes us feel free to explore whatever we want to explore.
In October 2017, you released the official video for the song "To the Moon". It is, in my point of view, very original and very artistic. In which place was it filmed? Who had this idea for miniatures (and for the entire script)? Well hum…How many teeth of Riccardo did you break? 😀
AP : Thank you so much! We just relied on the crazy, completely out of mind, director called Silvano Richini (who have worked before with Vision Divine and other acts). We knew it before we could get something mindblowing from him so we left him total space. It has been worth, definitely.
We filmed it close to Brescia, a kind of a natural arena between the lower italian mountains and some fields around. And don't worry, Riccardo is feeling well: you know, we were paper figures on screen, no teeth at all, ah ah ah!
Checking your Facebook page, I've seen that you've planned many shows of course in Italy, but also in Europe. How were your shows in Germany and Austria? Did you have a good audience? I'm asking this very obvious question, but do you have planned any French show?
AP : The two shows, first in Germany then in Austria, went amazingly good! Starting from the acceptance from the audience to the after show of both the festivals, great experience and great time there.
Concerning France we were planning something few months ago but unfortunately it went bad in terms of organization. That's anyway not the last opportunity, we'll do our best for sure to play there.
If you would play a show in France (I think it will be done…), which Italian product from Milan would you like to bring to our webzine?
AP : Good question! As first I could say without any doubt fog, a shitty weather but also wine and salame as never before, promised!
In your official biography, you stated that you're fan of metal bands, such as Equilibrium, Wintersun or Ensiferum. If we must quote one album per band, which one will it be? In other words, what are your favorite albums from these bands?
AP : Pretty easy question for me, Equilibrium – Sagas (literally a masterpiece, it's so hard to find such a great album in the genre for my tastes), Wintersun – Time and Ensiferum – From Afar (what an epic bunch of riffs!).
With which band would you tour particularly with?
AP : Referring to the question before for sure Equilibrium. They have been one of my biggest inspiration, since the first days. It would be a honor for sure.
Do you like adventure movies? (or the cinema in general…) Which one are your favorites?
AP : I love movies in general. I don't have any specific genre that I prefer 'cause the rule is just one: if it hits you heart, job done! And I can quote so many different titles, from Forrest Gump, to The Lion King (what a wonderful soundtrack, by the way), passing through Cast Away. Spielberg and Zemeckis, two immortal geniuses of all time.
What about your future projects? Any videos, shows (to be confirmed), albums…?
AP : By now I can tell you that we're entering the season for the second part of our tour. We will touch mainly italian cities, but also foreign countries such as Portugal, Switzerland, maybe something in Ireland or Germany, fingers crossed.
And concerning the new material, well, I can officially tell you that we've started the songwriting process of the new album, few songs already have been completed and we aim to finalize this phase by the end of the summer. Prepare yourself, it will be harder, more epic and straight to your bones!
A last word before conclusion?
AP : Thank you so much again for the time given to us, it has been a pleasure for sure. Wait for us, France, we will play there, 'cause we're terrible croissant eaters. For a fairy change we'll bring gelato! Keep on!
Thank you very much for answering my questions! Hope to see you soon…Mille Grazie!
Version française : Cliquer ici.