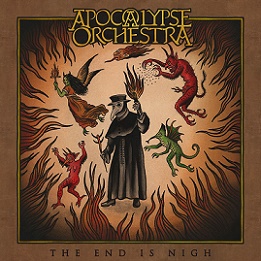 Ladies and Gentlemen ! If you never heard a word about Apocalypse Orchestra, you have also a chance to make up for it, because the band has just released their first album.
It's this album we will study now.
Few words about the band :
Apocalypse Orchestra is a swedish Doom/Medieval metal band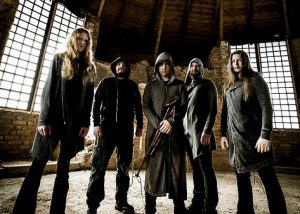 from Gävle (Gävleborg County) and formed in 2013. After 2 demos released in 2013 and 2015, the band signed a deal with Despotz Records (which have such bands like Grimner, Thundermother…).
This label allowed the band to release their first album, « The End is Nigh ». Now let's speak about that !
The album :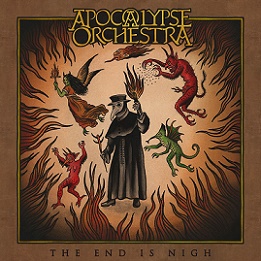 When we have a look to this artwork (with plague's doctor, devil, fantastic creatures…), we know what is exactly the thematic : Middle-Age.
Apocalypse Orchestra had decided to speak about this historical period with some subjects, as science, plague, religion…So what does this album saying ?
The album starts with « The Garden of Earthly Lights », very quietly with bells and percussions that's beating rhythm, immediately followed by bagpipes. So this is it, we're back in the past. We can already speak about Apocalypse Orchestra's style. The band proposes a mixing between folk and doom metal. So, on the doom metal side, rhythm are slow and guitar's riff are very heavy. This gives a very weighing assembly, maybe hovering.
But what is the most interesting and successful part of Apocalypse Orchestra's music is medieval music. First of all, the sound's quality is probably one of the better sound I've ever heard by a young band. Everything is clear and each instruments has got their place. Indeed, medieval instruments are a important strength for this album. We can hear a lot of them, with for example hurdy gurdy (« The Great Mortality »), mandola (« To Embark »), cittern (« Theatre of War »), lute (« Flagellant's Song »), etc. Vocals are also a great strength for this album. We can also highlight some gregorian influences, as for example the introduction from « Flagellant's Song » with male and female choirs which gives a religious assembly, nearly angelic. In fact, choirs are very present during all the album and it grows up this hovering and atmospheric feeling, with for example « Exhale » or « The Garden of Earthly Delights ». In the last one, we have the particularity to have voice's duality, which is very current for some bands like…Heidevolk.
Finally, what could we say ? With his  first album, Apocalypse Orchestra made a very meticulous work, what is very bright for the future. This band deserves to be more famous and to make maybe some tour…To be continued !
Note : 10/10
Tracklist :
The Garden of Earthly Delights
Pyre
Flagellant's Song
Exhale
Theatre of War
The Great Mortality
To Embark
Here Be Monsters
Extrait de l'album :