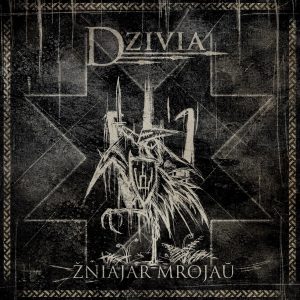 While waiting for Dzivia's next album, here's a review of the first one to get in the swing of things.
What is gripping is that as soon as you listen to the first tracks is that you know you are dealing with a quality production and with a very flowing ensemble. You move comfortably from a register to another and the compositions follow a natural evolution.
From the shy and contemplative melancholia of « Serca Puscy (Heart of the Forest) »  to the enchanting « Vilija » including the epic « Abudžeńnie Cmoka (Dragon's Awakening) », everything sounds unified and also diversified at the same time thanks to the melodies and instruments that stand out from the crowd and become the heart of the compositions. Without necessarily being in something rousing or repetitive, come tunes leave their marks on you and implant themselves in your mind, just like the violin on "Zbroja dy polymia". And from now on, this is what I'm thinking of to sort of define Dzivia.
What could more specifically define Artur Matveenko's signature are mastery and moderation, wheter it be for the choice of instruments or the evolution and the management of tones. And this to such an extent that when you think it's going to take off for a new epic and complex tune, it actually changes down for something more minimalist which makes all the fineness and the delicacy of the composition. It occurs repeatedly on the album but those "stumbles" eventually become the best moments.
On the whole, whichever register or tone is used, it is never pedantic nor showy. It somehow reflects a certain attitude from the compositor towards his own music: sincerity definitely, but also a quite surprising humbleness in view of the quality and the richness of his productions. I realize this seems to be a quite common thing to a part of Belarusian musicians. And in the end, wouldn't this goodness and honesty be an obstacle to ambition ? Not for everyone, let's hope so. Fortunately, it doesn't seem to be the case of Dzivia.
For those who have missed the new, here's a single of the upcoming album, "Vataha":
The first album as well as this song are available on digital sale on Bandcamp here and you can find Dzivia on Facebook, Soundcloud and VK.
You can also follow the other works of Artur Matveenko here.
Mäntymetsä.
Tracklist:
Serca Puščy (Heart of the Forest)
Zbroja dy połymia (Fire and Sword)
Skarby Aniolaŭ (Treasure of the Angels)
Kaladnaje Koła (Old Belarusian song)
Pahonia Pryvidnych Vieršnikaŭ (Ghosly Chase)
Šeście Pamierłych (Dead Procession)
Abudžeńnie Cmoka (Dragon's Awakening)
Vilija
Stračanyja Padańni (the Lost Tales)
7.5/10