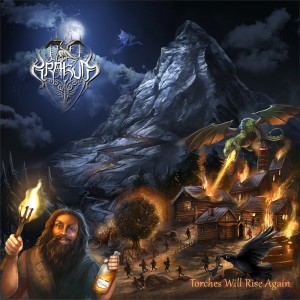 I don't know if Obelix already said that in one of the comics Astérix and Obélix, but I do say it, « they are crazy, these Iberians ! ». Celtibeerian already showed it, and Drakum is of the same nutty kind !
Before talking about the album, let me shortly introduce this band from Barcelona to you. Drakum was formed in 2009 and is composed with eight members : Javi (vocals/harp), Jose Luis (bass/vocals), Feni (guitar), Mark (guitar), Caleb (violin/vocals), Albert (keyboards/vocals), Oriol (whistles/bagpipes) and Xavi (drums). After their first demo, Around the Oak, released in 2010, the jolly fellows began a series of gigs (they made Arkona's opening act in Barcelona, just that !) and participated in numerous band contests. From 2013, the band went over borders and was on the bill of some festivals, such as MetalDays'13 in Slovenia (an experience that they repeated in 2014), the Carpathian Alliance Metal Festival '13 in Ukraine, and the Underwall Fest'14 in Croatia. Meanwhile, Drakum began to record their first full-lenght album, Torches Will Rise Again.
The artwork gives an excellent preview of the band's universe : in the background, two dragons are spreading terror in a village at the foot of a mountain, by moonlight. And in the foreground, what can we see ? Master Crow, with a pipe in its beak, and a bearded villager, holding a torch in a hand, and a bottle of whisky in the other one ! An album which promises to be epic … very epic ! And awfully danceable, it smells like jigs in a tavern ! Some titles confirm it, after « Vodka » by Korpiklaani, and many praises about beer by a lot of folk metal bands, Drakum goes the hard way and sings about whisky and absinthe (obviously without moderation). In short, we should not get bored in such a pleasant company !
The album begins with an instrumental track. Drakum directly gets us into the swing of things : epic and heroic tones, and ambient sounds, it bodes well ! The drums are rumbing, it's pouring down, the dragons are growling and roaring, the wolf is howling, the crow is cawing, the eagle is screaming, the tone is set !
To give an overview, Torches Will Rise Again is devoted to a joyful and relaxed atmosphere ! The tracks which make it up are efficient, straightforward, and get to the point. In the same vein as Korpiklaani, the melodies are lively, energetic, festal at will, the rythm is ultra-fast, all the elements are gathered to incite us to get into the swing of things ! Drakum is a frank band, easy-going, the only thing which matters is to make us spend a pleasant time ! That's why we should more appreciate them in live, especially as the lyrics are sung in English, and consequently, accessible for the audience. We can easily visualize the enjoyable commotion during songs such as « Around the Oak », « Whisky », « Torches Will Rise Again », and I could go on, because songs sparkling with energy aren't what is missing ! Even « Spirit », which seemed to foreshadow a little break with the soft melodies of the keyboards, surprises and is a rousing track as well. One of Drakum's talents is bringing to light, the band manages to create vigorous tracks, as they are maintening a nostalgic atmosphere, thanks to the soft melodies of a tremendous violin and of soothing keyboards, which punctuate « Song for Your Death » and « Torches Will Rise Again ». With « From Earth to Victory », « Embers of Tomorrow » is the only calm track in the album. The soft keyboards/violin instrumental enlivened with feminine choirs would have been more suitable in the middle of the album or as an outro. In any case, it is here and it allows to ease minds.
 With all the present instruments on the album, it is sometimes difficult for us to distinguish them. Apart from the drums, the electric instruments are often in the background, even if their folkloric peers perfectly fit in the melodies. Fortunately, the band gives room to them during great guitar solos, especially in « The Wanderer », « Song for Your Death », « Absinthe » and « Torches Will Rise Again ». The bass is understandably the most discreet, but it could be heard better during a short solo in « Shadow of Time ».
I just have to talk about the singing. Even if Javi's death growl gets the job done, it lacks a little bit of shades. Nevertheless, this shortcoming is filled with some black parts in « Shadow of Time », « Absinthe » and « Torches Will Rise Again ».
To recap, if you kike having some fun and if you have an obessive need to move in every direction like me, I can deeply recommend this album to you !
Fée Verte
7/10
Tracklist
1. From Earth to Victory
2. Around the Oak
3. Whisky
4. Shadow of Time
5. The Wanderer
6. Spirit
7. Song for Your Death
8. Absinthe
9. Embers of Tomorrow
10. Torches Will Rise Again
 Release : 15/11/2014
The band's links :
https://www.facebook.com/DrakumOfficial?fref=ts