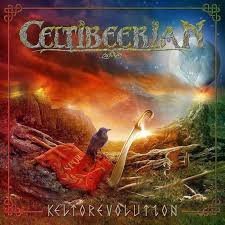 In olden days, in this ancient land which was Celtibeeria, lived a Celtic people coming from Celts and Iberians : Celtibeerians. The Iberian band Celtibeerian tells their story in their first full-lenght, Keltorevolution, released last March via Pagan Sound Production. The album was recorded at Dezege Studios in Spain and mastered at Finnvox Studios in Finland.
Keltorevolution sounds a bit like an Helvetios "made in Spain" : fourteen music pieces which tell us the story of the Celtibeerian people and their struggle against the Roman invader. The similarity doesn't end here since we also find an introduction and an outro enliven with a narrative feminine voice, and a cloistered one in "Eimos to Katum", which tends to remind us of Eluveitie's "Scortched Earth".
Yet, Celtibeerian has managed to develop their own identity since their first EP Tirikantam released in 2011. Some songs are sung in Celtibeerian, which gives an authentic and original side. We can feel that the band gets away from their "Korpiklaani" and "Alestorm" influences. Nevertheless, some pieces still make us think of them, such as "The Simple Life". It is not surprising since amongst the numerous collaborations, we can count Jonne Järvelä's and Tuomas Rounakari's of Korpiklaani. Jonne's and Gustavo's voices go wonderfully well together ! "Win Another Battle" also reminds us of Alestorm's universe, with this little Christopher Bowes-like "Let's go !". Regarding the time of production and composition that were necessary for Keltorevolution, we can conclude that the Spanish have gained musical maturity. The album is heavier, and the compositions are more elaborated regarding riffs and melodies.
The greatest strength in this album is without doubt the variety of its tracks : a warlike spirit with a rapid rhythm in "Keltorevolution", or in "Eimos to Katum" where the percussions mimic a military march, and a victorious singing, "Unbury the Horn", in which we can hear a tribe who proudly defends its lands ; also an atmosphere of comfort and of festivities, such as in "The Booze Song" (the ultimate festive song, you'd think you were at a tavern !) ; some pieces are somewhat off-the-wall like "Under Lug's Sight" and "Lutiakoi", or on the contrary an exotic and nostalgic side in "Fields of Celtibeeria" and "Uer Keltum Brigubis". The whole is enhanced by the folk melodies of the traditional instruments (violin, hurdy-gurdy, whistles, bagpipes and bouzouki). Special distinction to Dagda for his ability to master so many instruments ! In short, in Keltorevolution, there are for all tastes, and Celtibeerian had the good reflex to alternate musical styles so that it never bores us !
The bet was won for Celtibeerian ! Keltorevolution is mostly cheerful and lively, which gives a lot of emotions and unforeseen developments, and that we can listen to without never being bored !
Fée Verte
9/10
Tracklist
1. Singing To Our Land (Intro)
2. Keltorevolution
3. Unbury The Horn
4. The Booze Song
5. Fields Of Celtiberia
6. Under Lug's Sight
7. Win Another Battle
8. Kladimoi (Swords)
9. Uer Keltum Brigubis (Over The Mountains Of The Celts)
10. Blood Of A Guiltless Town
11. This Simple Life
12. Eimos To Katum (We're Marching To War)
13. Lutiakoi (Lutians)
14. Eternal Knot (Outro)
Release : 03/29th/2014
Links :
http://www.celtibeerian.com/ https://www.facebook.com/Celtibeerian?fref=ts https://myspace.com/celtibeerian