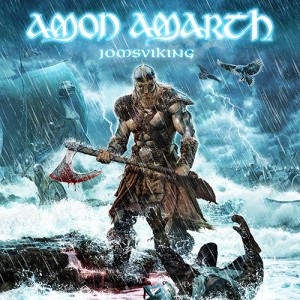 On easter week-end, Amon Amarth, well known for their love for christians traditions, releases a superb album full of faith, peace and love.
Well, it's maybe about pillages, deaths and norse legends, but there's still a bit of love, just to make a good drama.
With Jomsviking, the band reveals their tenth album, and at the same time their first concept album. There's no need to introduce the swedish band, but the line-up changed on 2015 after Fredrik Andersson leaving, the drummer of Amon Amarth since 1998. This album was recorded thanks to the participation of Tobias Gustafsson (Vomitory, God Macabre…) and honestly, he rocks !
The album begins with a very catchy riff which directly brings us to the universe of the concept, the story of a young man in love with a woman whose promised to another man. He decide to kidnap her before her wedding, but he has to fight the earl right hand man and kills him, and that's the beginning of his descent into hell. First Kill is the first track, and it shows us the evolution in Amon Amarth's music. Heavy Metal influences were already very present in Deceiver of the gods, are even more prominent here.
But don't worry ! It's definitly not a Heavy metal album, far from it, these influences just enrich their melodic death metal, it makes it greater. While listening to this album, you wonder if Amon Amarth wasn't always heavy metal influenced.
The atmospheres follow each other, from the dark ambiance of First kill, to epic songs like One against all or Raise your horns (by the way a song which will be a great live music with its powerful riffs, its heady melody and its warrior's choirs that can be sang by the audience). No doubt it will be a great concert song ! Other tracks are quite surprising like At dawn first light which singing style is very fast compared to the other titles and its melody is so melodic that it could have been made by Iron Maiden or Judas Priest. But our vikings didn't forget their roots; some tracks are more death metal influenced, like On a sea of blood or Vengeance is my name and their sound is still as violent and vigorous as before.
We can notice Doro Pesch's great performance on the excellent A dream that cannot be which is the end of our hero's adventure and his love desillusionment.
The concept itself is very well controlled. Despite its simplicity, the story melt perfectly in the viking universe and is interesting. Jomsviking isn't a block which parts only work together. Each song has its specificity, is interesting, intense and can be enjoyed independently from the rest of the album. Thanks to the story, the tone evolve at every ordeal the hero is confronted to, and that makes this album their deepest one.
Amon Amarth is still doing Amon Amarth, they didn't revolutionize their style, but they managed to renew it with this concept, but they stay true to themselves. They give an album full of variations, ambiances and it reveals itself the worthy successor to Deceiver of the gods.
Huginn
Rating: 9/10
Tracklist
1. First Kill
2. Wanderer
3. On a Sea of Blood
4. One Against All
5. Raise Your Horns
6. The Way of Vikings
7. At Dawn's First Light
8. One Thousand Burning Arrows
9. Vengeance Is My Name
10. A Dream That Cannot Be
11. Back on Northern Shores
Release: 25/03/2016