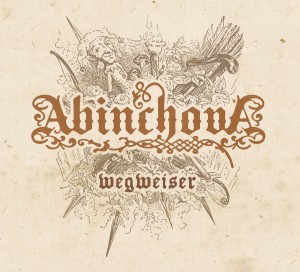 When you deal with Death/Folk Metal, famous names emerge on everyone's lips to the little band's displeasure. Even if the shadow of Eluveitie hovers over them, the Swiss band Abinchova isn't afraid of taking the plunge.
After Hörensage's release (2009) and Versteckte Pfade album (2011), the band made their comeback in 2014. Weigweiser, the last Abinchova's album delivers an interpretation of Switzerland's legends and tales.
Following an acoustic and narrated introduction, which is usual in Abinchova's albums, Wegweiser got off to a flying start with Handgeschrieben. This energetic song set the pace of this album; Arnaud's harsh vocals and Nora's sweet voice intermingle, guitars are dynamic and deliver fast riffs close to Heavy Metal standard. This track is seasoned with violin which brings some kind of lightness which is present throughout the album.
Over the record, musicians play sometimes guitar solos, sometimes piano solos showing that this instrument as an important place in the compositions. Occasionally, Arnaud's growl can be substituted by an evil laugh (Wandlung 02:13) or by screams (Unter der Erde  01:13). Vom grünen Grund allows Nora to demonstrate her vocal qualities by singing high-pitched. Rhythms and atmospheres follow one another to captivate the listeners.
Even if some songs are reminiscent of Ensiferum's work (as Flaschengeist at 2:13), Abinchova released an album pleasant to listen again and again without boredom showing up.
Review by Seppuku, translation by Huginn.
8/10
Tracklist :
1. Präludium
2. Handgeschrieben
3. Wandlung
4. Vom Grünen Grund
5. Flaschengeist
6. Sturmgeweiht
7. Unbenannt
8. Unter der Erde
9. Felsenfrass
10. Echo
Released : July 4th, 2014.
Find Abinchova on : Facebook, Official Website, Bandcamp.