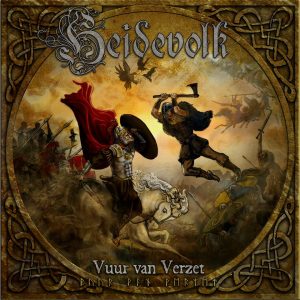 The most famous Dutch folk metal band is back !
They just released their sixth album « Vuur Van Verzet » (Fire of Resistance in English) we will study right now…
Few words about the band :
Well, we don't introduce themselves anymore, but we could make a reminder, eh ? 🙂
Heidevolk comes from Arnhem (East of Netherlands) and was founded in 2002. They immediately stand out with some special characteristics, such as dual clean male voices (with their two singers) and of course their lyrics written in Dutch, their mother language.
After a first independent album « De Strijdlust is geboren » released in 2005, they signed a deal with Napalm Records in 2007, so they could released their second album « Walhalla Wacht » in 2008. Many albums followed, the last one « Vuur Van verzet » was just released one week ago…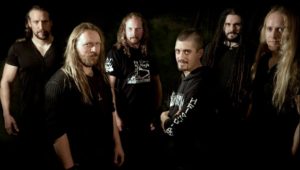 The album :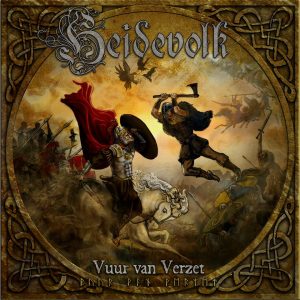 When the band made their album announcement few months ago (in which they told us about failing Roman Empire and Germanic tribes who want to « claim back what is theirs »), it became very interesting.
But it's very common for Heidevolk to speak about conflict (and nature, Germanic mythology, etc.) in their songs. So could we expected some repeat ?
The album opens with « Ontwaakt » (Awaken, in English), which have a very agressive side we rarely see in Heidevolk, but which is very efficient and surprising because of this progressive touch. The band told us it was a « in your face metal song » and yes that's true ! In all album, we can say that guitars' riffs are effective.
Except Dutch lyrics, we have our expected « heidevolkish » dual clean male vocals in all album, which gives us this desire to grow our beards and drink some delicious beers. Tradition was respected, but the most unexpected part of this album is probably male choirs. There are no technical effect, because Heidevolk worked with a real male choir with 24 men.
Choirs are extremely immersive and give us this perfect illusion of a real tribe of Germanic warriors (maybe hairy and bearded…) fighting against Roman empire. We could hear these with for example « Brittania », « Tiwaz », « A Wolf in my Heart » (that song can probably work in live) or « The Alliance ». But the best example is probably this a cappella dual between one man and the entire choir in « Yngwaz' Zonen ». This vocal work is amazing and have gone through an experience.
So the band became more mature and incorporated some new elements into their music, like some folk instruments and a string ensemble. Yes, you readed me correctly…:) The band added a symphonic touch through this string ensemble for « Het Oneindige Woud » or « Gungnir ». It's very emotional, but it also sounds like a movie's soundtrack. It looks like « Braveheart » soundtrack ! But no, we're listening to a Heidevolk album… In these songs, choirs are very hovering and mystical and increase this illusion to be in the past.
Finally, we can easily say that Heidevolk surprised us with this colorful and mature album. It's probably one of their best album so far.
Note : 9/10
Tracklist :
Ontwaakt
A Wolf in my Heart
Onverzetbaar
Yngwaz' Zonen
Brittania
The Alliance
Tiwaz
Het Oneindige Woud
Gungnir
Woedend
Het Juk Der Tijd
Drink Op De Nacht (Bonus Track)
Een Wolf in Mijn Hart (Bonus Track)
Extrait de l'album :