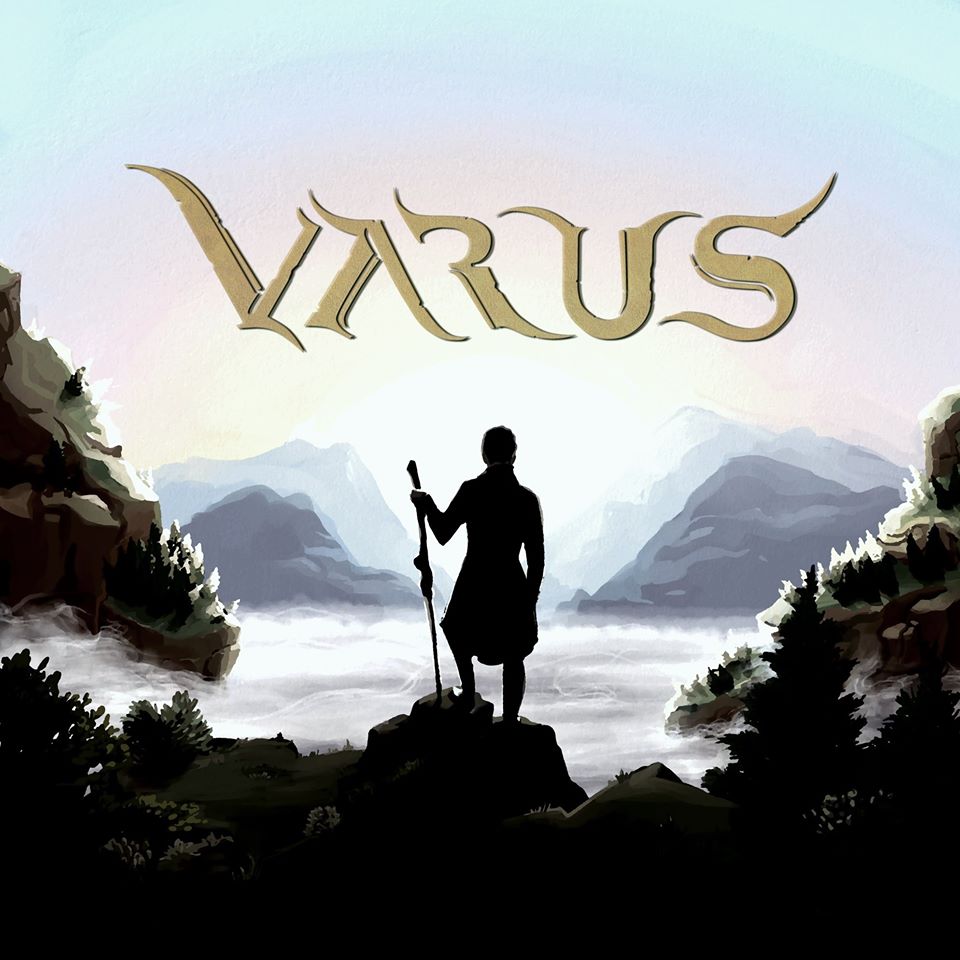 German folk/pagan metal scene has been lately quite flourishing, with a lot of underground bands taking up the torch after Equilibrium, Wolfchant, Suidakra… I obviously think about Munarheim, but also about Kambrium, Dvalin, Mornir, Varus… We'll precisely talk about these latest ones.
Varus are from Bamberg, Bavaria, and were born from the ashes of Banjaxed in 2012. From 2010 to that year, the band performed covers as well as original songs. As I said in my live report, the band name Varus is a reference to Publius Quinctilius Varus, a Roman general whose army was defeated and annihilated by Germanic tribes in the Battle of the Teutoburg Forest (9 AD).
When I listened to the debut self-released album Till the Sun Rises out in 2014, I appreciated the efficient mix between symphonic, folk and epic metal. The only element which upset me was Maximilian Raab's growl because it sounded like too forced and caricatured to me. From the following year, the line-up began to change, and Maximilian's brother, Konstantin, has replaced him, and also plays the keyboards, the flute and the mandolin. After having discovered the band in concert, I must admit to prefer Konstantin's voice (no hard feelings Maxi !). Within the band, there are also Stefan Schwarz (guitars/vocals), Norbert Caspar (bass) et Max Betz (drums).
Varus recently announced the release of their sophomore album A New Dawn which will be out on June 27th, and will be a self-released album as the previous one. If we pay attention to the tracklist, we can notice several things : some songs are sung in German, the other ones in English. Moreover, for a total duration which is more or less the same (about 45min), the average duration of the songs are about 4-5min, but there are three songs less on A New Dawn, which are replaced with two ten-minute songs (the opening track « The Awakening » and « Ein Lebewohl », meaning « A Farewell »). This song is dedicated to Eddy, the late guitarist of Wolfchant, who tragically passed away in 2017, and Konstantin was arranging orchestra for the band.
Varus describe themselves as playing « Epic Bombast Metal ». It could be described as extreme metal with numerous influences, such as classical, traditional and rock/metal music. The main lyrical themes are local myths and legends, war, drinking and historic events.
Symphonic parts sounded like messy during the concert in Berlin, the band spread themselves less on their new studio album, which is an obvious proof of maturity. Some orchestral passages could have been more highlighted (especially in « The Awakening ») in order to create more intensity, but generally, Varus manages to establish this epic and spectacular atmosphere which accentuates our thirst for adventure and which we expect from a symphonic metal band. « Ascheregen » stands out for being more direct and for its darker and threatening orchestral parts. The guest opera singer Anna Rosenfeld participates to three songs (« The Awakening », « A New Dawn » and « Ascheregen ») and she is a real plus since she reinforces the grandiose aspect. When associated with her voice, orchestral parts especially remind us of Fleshgod Apocalypse and Ex Deo, but also Equilibrium in their golden age and Finntroll.
During the drinking songs « Tränk Dein Herz » and « Die Letzte Schenke », we can listen to these « Finntrollian » lively keyboards. On this incredibly festive song, the combo guitar/keyboards reminds of Erdentempel by Equilibrium, but also Alestorm when the keyboards sound like the accordion. Michael Bachmann (from Empyreal)'s growl perfectly completes Konstantin's one and brings more power. On the other songs, the keyboards reinforce the epic aspect, and also sound like neo-classical (end of « Ein Lebewohl »).
The songs are mainly led by Konstantin's growl, sometimes black metal, sometimes hollow (« A New Dawn » and « Wandel Der Zeit »). On the title track and on « The Minstrels Chant » (where Konstantin delivers the lyrics as if he were a minstrel telling a story), Stefan's epic and adventurous vocals are added to this voice, which reinforces this feeling of living a saga.
Guitar riffs and chords often sound like « Hard Rock/Heavy Metal », but also thrashy (« Tränk Dein Herz »), power (solo in « Wandel Der Zeit ») and epic/melodic black/death metal in the same vein as Ensiferum and Wintersun (« The Awakening », « Ein Lebewohl », « Wandel Der Zeit »…). However, some prog rock sounds, sounding like Pink Floyd (introduction of « Ein Lebewohl ») and Jethro Tull (« The Minstrels Chant »), are far more surprising. The guitar isn't the only instrument which creates these sounds, flute and keyboards parts also contribute to it (« Wandel Der Zeit » and « The Minstrels Chant »). Folk influences are more pronounced thanks to the flute in « A New Dawn », but it's more obvious in « Ein Lebewohl », when it is associated with the mandolin and sounds like Slav in the same vein as Arkona and Sur Austru, or Celtic. This is also the case for the medieval/prog rock song « The Minstrels Chant ».
Without being revolutionary in their musical genre, Varus offers a varied album with well-structured songs, with main watchword : « Epic », in the grandiose meaning of the word !
Fée Verte
7/10
Tracklist :
1. The Awakening
2. Tränk Dein Herz
3. A New Dawn
4. Ascheregen
5. Ein Lebewohl
6. Wandel Der Zeit
7. The Minstrels Chant
8. Die Letzte Schenke
Release date : 27/06/2020
Links :