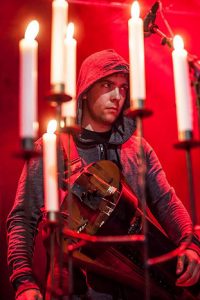 Hello Mikael (& Apocalypse Orchestra)! Thank you for according me this interview! First of all, I think there are not so many persons who know you. Could you please introduce yourselves and introduce the band ?
Mikael: Thank you for having us! We're a five piece band from the town Gävle in Sweden. We formed about four years ago because we wanted to play really heavy, doom oriented medieval metal since no one else was doing it.
Our lineup is:
Mikael: Hurdy Gurdy, Bagpipes and backing vocals
Andreas: Drums and percussion
Erik: Main vocals, guitar, mandola, lute and bouzouki.
Rikard: Bass and backing vocals.
Jonas: Guitar and backing vocals.
Continuer la lecture de [ENG] Interview with Mikael Lindström (Apocalypse Orchestra) →