Realms of Odoric est le projet du multi-instrumentiste Arkadius (Suidakra) et du talentueux illustrateur Kris Verwimp ( à travaillé sur les illustrations de Arkona, Suidakra, Crimfall, Waylander ….).
Realms of Odoric is a project from Multi-instrumentalist Arkadius and talented illustrator Kris Verwimp ( He have worked on Arkona, Suidakra, Manegarm illustrations and many others )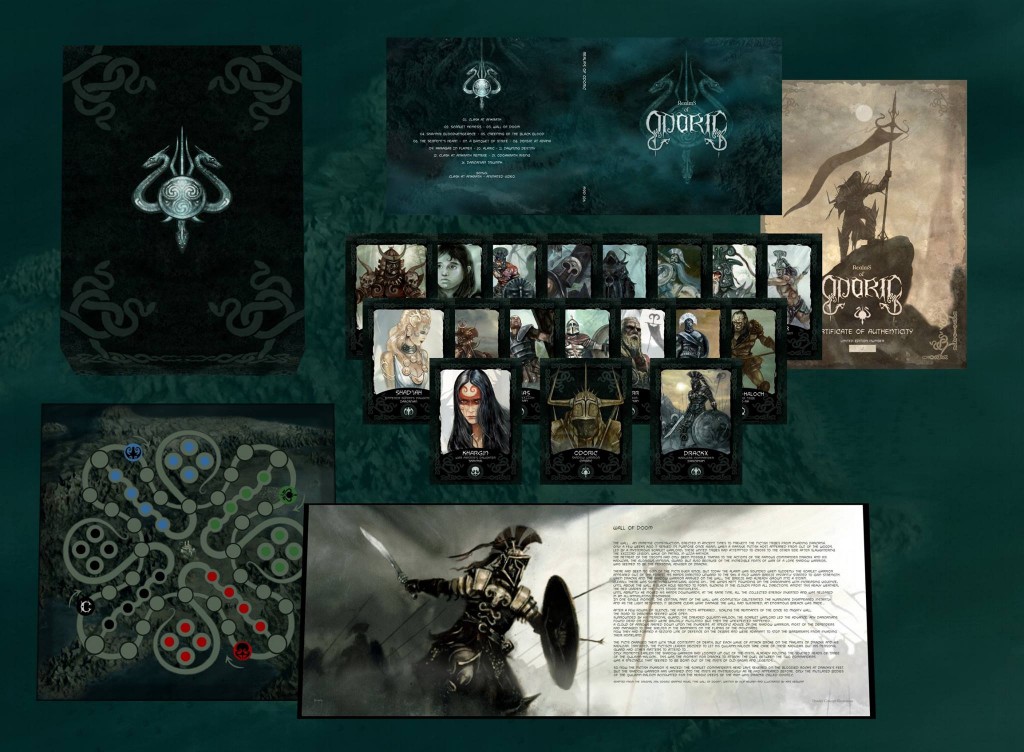 Vous pourrez découvrir l'univers d'Odoric aux orchestrations composé par Arkadius et aux illustrations de Kris Verwimp, la box contient / You can discover the Odoric univers wth the orchestrations by Arkadius and Kris Verwimp's illustrations, the box contains  :
– Un CD Digipack avec les orchestrations / CD Digipak with the Soundtrack
– Le jeux de plateau avec toute les figurines et dés / The boardgame  with all figures and dice
– 18 cartes collector des personnages du monde d'Odocric emballés séparément / A set of 18 Collectors-Card, packed seperately with characters out of Odoric
– Un livret A5 avec illustrations détaillés peinte par Kris Verwimp / An  Din A5 size Booklet with detailed painted illustrations by Kris Verwimp.
La box est numéroté et  limité à 100 exemplaires ! The Box is numbered and limited at 100 pieces !
vous pouvez la commandez ici / You can order it here : http://mdd-shop.de/en/realms-of-odoric-limited-box-suidakra
Facebook : https://www.facebook.com/RealmsOfOdoric
Soundcloud : https://soundcloud.com/realmsofodoric/
Trailer :