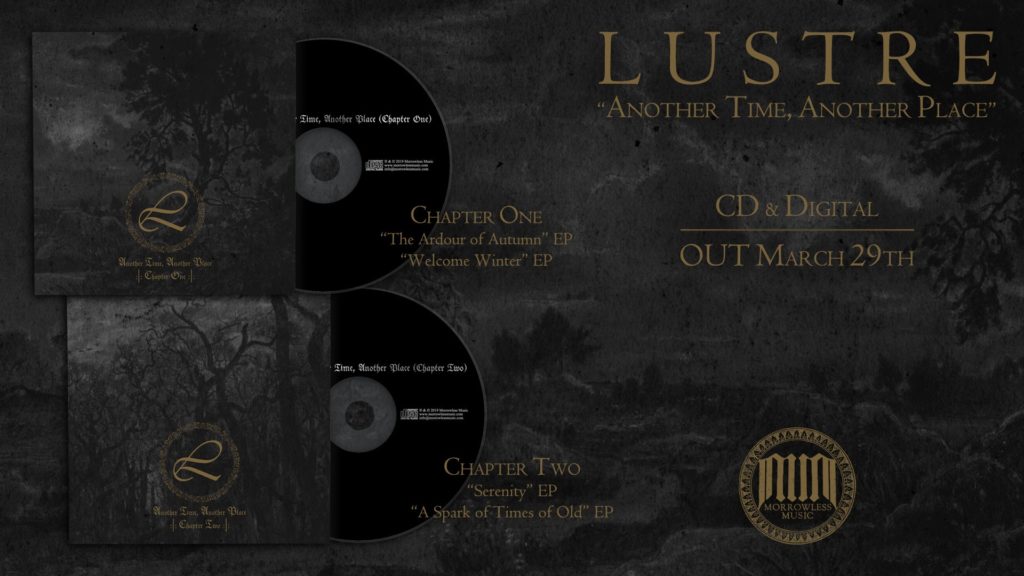 Le one-man-band de black atmosphérique suédois Lustre sortira une compilation intitulée Another Time, Another Place (Chapter One & Two) en formats CD et numérique le 29 mars chez Morrowless Music.
Cette compilation comportera certains des tous premiers travaux de Lustre. Le premier volet est consacré à l'EP de 2013 jamais sorti auparavant The Ardour of Autumn, mais aussi à l'EP Welcome Winter datant de 2009. Quarante minutes de musique pour exprimer la transition entre l'automne et l'hiver. Quant au second volet, celui-ci révèle le côté sombre et introspectif du passé de Lustre à travers le premier EP Serenity datant de 2008, suivi de l'EP d'une piste A Spark of Times of Old datant de 2012.
 » Lustre – "Another Time, Another Place" (Chapter One & Two)
CD & Digital
Due for release on March 29th through Morrowless Music.
Pre-order links below.
"Another Time, Another Place" includes some of the most coveted early material from the time when the rather unique signature sound of Lustre came to form.
Chapter One of this two-part compilation release consists of the long awaited, never before released "The Ardour of Autumn" EP from 2013 as well as the widely celebrated "Welcome Winter" EP from 2009. Over 40 minutes of material portraying the transition from autumn to winter.
Chapter Two shows a dark, introspective side of Lustre's past through the debut EP "Serenity" from 2008, followed by the one-track EP "A Spark of Times of Old" from 2012. Clocking in at about 40 minutes, this gloomy chapter constitutes an essential part of Lustre's rather substantial discography. « 
Précommandes / Preorders :
Chapter 1 :
https://morrowlessmusic.com/…/lustre-another-time-another-p…
http://smarturl.it/lustre-chapter-one
Chapter 2 :
https://morrowlessmusic.com/…/lustre-another-time-another-p…
http://smarturl.it/lustre-chapter-two