La bassiste d'Equilibrium, Jen, a pris la décision de quitter le groupe. N'ayez crainte, cela n'empêchera les Germaniques d'assurer leurs prochains concerts, et surtout, de travailler sur leur prochain album prévu pour 2016 !
Equilibrium's bassist, Jen, decided to leave the band. Don't be afraid, it won't prevent the German band from performing their next shows, and above all, working on their next album planned for 2016!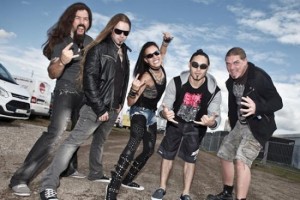 " Our bass player Jen will leave the band unfortunately. Big thanks to you for being part of our adventure for the last 1,5 years and all the best for your future!
This will not affect the future plans of EQUILIBRIUM. We will play all shows and of course we will continue working on our next fulltime album which you can expect in 2016.
Here you can read her statement:
"Dear Equi Fans,
I am really sorry to let you know that my work with EQUILIBRIUM after just one and a half year has now come to an end. After some great national and international shows and a beautiful European tour in October 2014, we separated in a friendly way; this decision was made before I became part of EVANESCENCE in August 2015 and has nothing to do with it. I truly feel sad about not being a part of EQUILIRBIUM any longer due to unsolvable differences and personal views.
I'm sure, I'll stay friends with the guys and hope to see you all out there somewhere again.
Jen" "