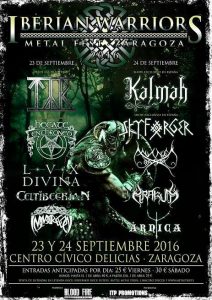 In a few days, the first edition of the Iberian Warriors Festival will take place in Zaragoza in Spain, from the Friday 23rd to the Saturday 24th of September. As you can guess, this festival is mainly about Folk Pagan Metal and its program is pretty mind-blowing!
Amongst the headliners we don't really need to introduce anymore, we can find Tyr and Skyforger (some news about their forthcoming album here).

It is interesting to notice that half of the program is made of local bands. The leader is the young Celtibeerian, the review of their last album Keltorevolution available here.
They are followed by Arnica who are also Iberians, by the trolls of Drakum and by Immorgon who are both from Barcelona and finally by a Bask Folk Metal Band, Aiumeen Basoa.
The final part is constituted of three bands of alternative genres such as Kalmah from Finland, who will play their Spanish exclusive concert here, as well  as two Black Metal bands: Hecate Enthroned and Lux Divina.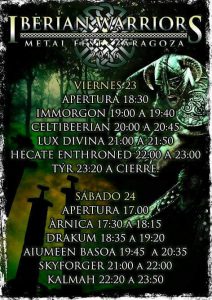 Tickets for the Friday 23rd of September here.
Mäntymetsä.