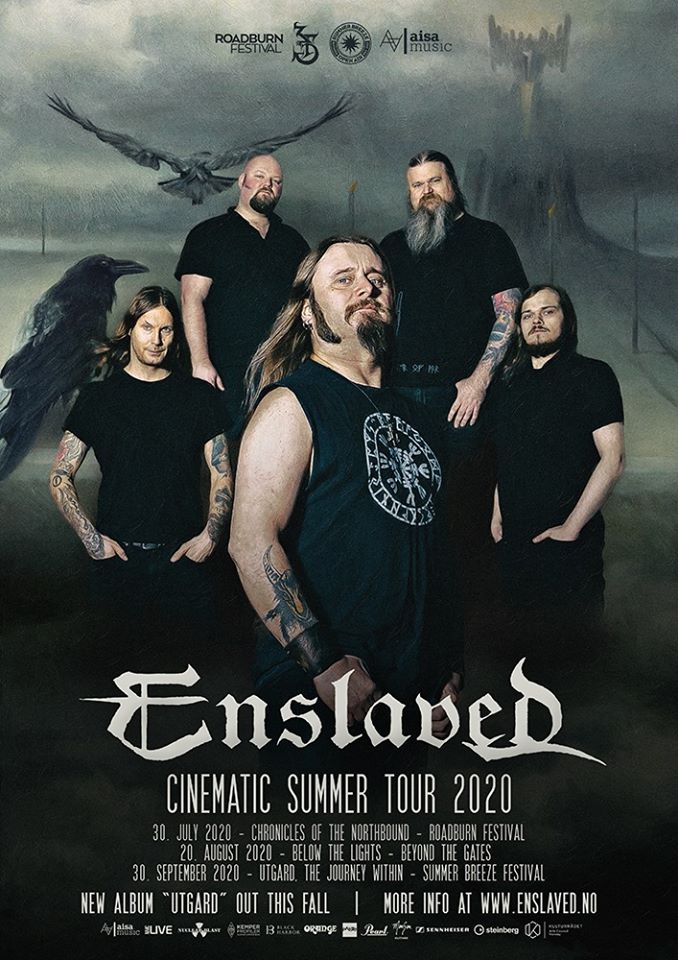 Après leur concert en ligne du 1er avril, Enslaved seront en mini-tournée estivale en streaming, en partenariat avec trois festivals :
30/07 Roadburn Festival – Chronicles Of The Northbound : les fans pourront choisir leurs chansons préférées du groupe pour constituer la setlist.
20/08 Beyond the Gates Festival – Below The Lights
30/09 Summer Breeze Festival – Utgard – The Journey Within : le groupe jouera son nouvel album dans son intégralité.
Tous les concerts seront accessibles gratuitement sur la chaîne YouTube du groupe (participation libre évidemment souhaitée).
*** CINEMATIC SUMMER TOUR 2020 ***

'We must stick apart' is a proverb of Discordianism (a religion I [Ivar] might or might not have just made up) that might fit the situation we are all in now. We are all isolated in various degrees; and we all miss live music. So, we have stuck apart and with our fantastic team of super-people in management, label and booking, plus three of our best friends who happen to be the very creme de la creme of European Festivals; we are now able to present this digital festival-tour. We are already hard at work preparing sets and shows that will make this one for the (e-)books.

We are stoked to announce our upcoming « Cinematic Summer Tour 2020 » today! After the great experience of our first streaming event on April 1st from Verftet Online Music Festival, we decided to take it one step further to enlighten our concertless summer with a series of high-end online events – a cinematic tour experience!

For this forward-thinking concept, we are joining forces with three festivals that present one of the three different shows each:
In cooperation with Roadburn Festival, the tour starts July 30th, with the « Chronicles Of The Northbound » show. Fans will be invited by the festival to choose their favourite Enslaved songs to create a career spanning set. The second show will be a « Below The Lights » set on August 20th, presented by Beyond the Gates festival.
We will end our virtual tour at the Summer Breeze open air on September 30th, with the presentation of our new album in its entirety: « Utgard – The Journey Within".

Each individual event will be accompanied by different side happenings, on which we will shed more light separately.

All events will be streamed on our YouTube channel!
http://nblast.de/EnslavedYouTube

To give everyone the chance to be part of this, all three shows will be accessible free of charge. There will be a donation option and special merch for the Cinematic Summer Tour.

Thank you for your support, faith in us and patience – to have fans like you is an absolute privilege.
See you in the Ether!
– Enslaved