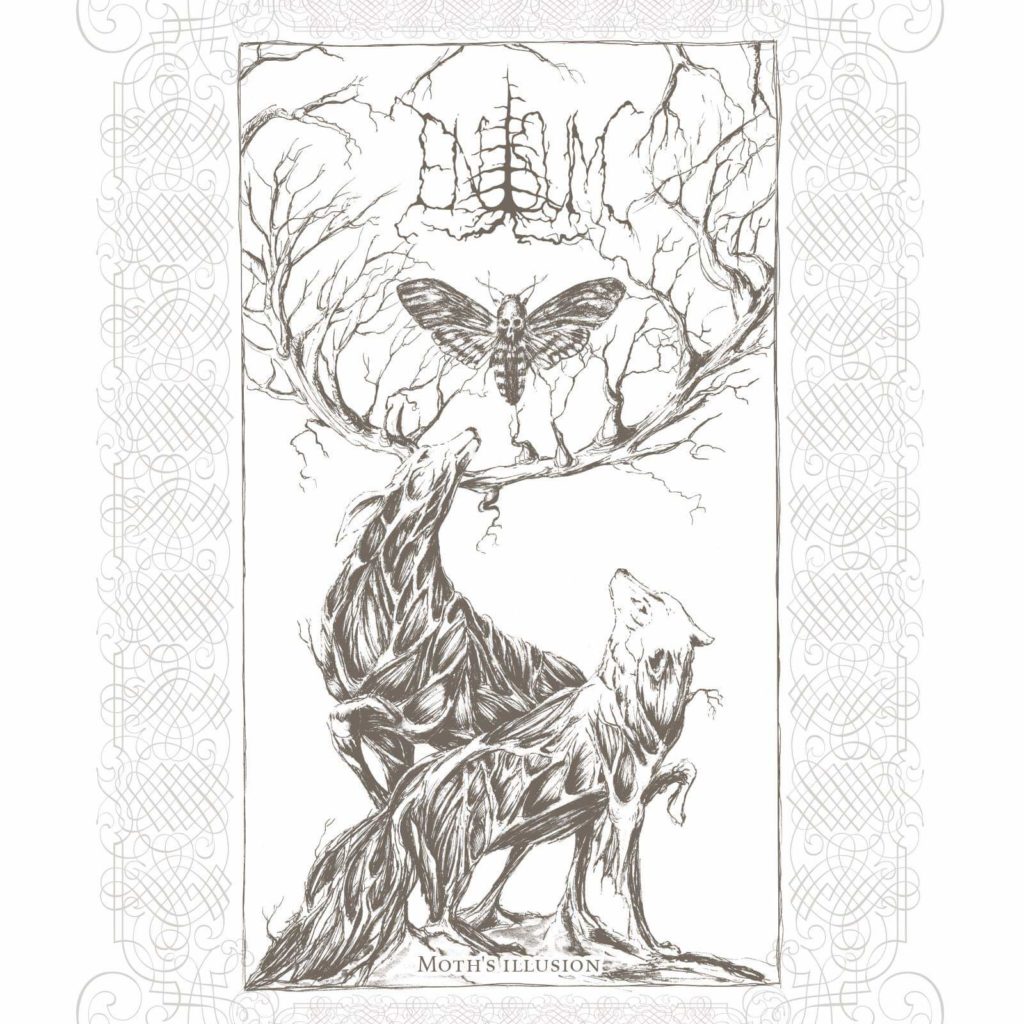 Hi Lys ! First of all, could you introduce the band, explain the name « Enisum » and the appellation « Arpitanian Black Metal » ?
Hi, Enisum is my musical project born in 2006 as one man band. After 5 self-produced works limited to a few copies in 2014 with the album Samoth Nara, Enisum's live activity began with the first full album and the inclusion in the band of Leynir on bass, Dead Soul on drums and Epheliin (only for some studio recordings).
The name Enisum is the name written contrary to the mountain Musinè located in Valle di Susa, near my house. it is a mysterious mountain, rich in legends and mysteries and esotericism.
I define the music of Enisum with the Arpitanian Black Metal Term because the lands where I live, in the past they were called Arpitane lands. It seems right to me to give an identification and belonging to one's roots.
Moth's Illusion is the second album by the band which has been released via Avantgarde Music (your previous albums were released via Dusktone). What do you appreciate with Avantgarde Music ?
I'm happy with Avantgarde Music. We have good communication, and everyone tries to satisfy everyone's needs. I thank Avantgarde Music, Roberto Mammarella and his collaborators.
Could you explain the title of the album Moth's Illusion and its artwork ?
The Moth's Illusion album is the metaphor of the moth attracted by the light of the moon, just as man is attracted to discover what is there after death. Understanding whether this light for the moth and for man is an illusion or not. To discover this, man must die and only with death will he discover this.
The album artwork was designed by Elisa Lo Presti. An Italian artist. It represents a wolf and a deer that observe a moth while flying away towards the light.
There were numerous reviews about your latest album recently, what were the feedbacks generally, by webzines or by fans ?
The first feedbacks were positive.
You are touring in Europe with Drawn Into Descent, how does it go until now ?
The tour with the Drawn into descent went well. We had known each other for years. We are friends. And this is an important aspect because going on tour and spending many days with friends facilitates everything and makes everything more peaceful.
By the way, for people who never saw you, how would you describe your shows ?
To those who have never seen us and are interested, I suggest you come and listen to us. Our shows are the same at every concert. There is no difference playing in small clubs or big festivals. The music and the show is the same.
I had the opportunity to see you at Ragnarök Festival in Germany, and more recently in Aalst, but I admit I was disappointed not to see Epheliin with you. Will we have the opportunity to see her with the band on stage one day ?
You will still be disappointed. To be clear, Epheliin sang and recorded some vocal parts on the Enisum albums, but is not present on our shows. And in the future I don't think she will be present in live shows.
What are the thematics in your songs ? Your region is very beautiful, I suppose this is a great source of inspiration !
Yes, my land gives me a lot of inspiration. Rivers, mountains, animals etc.
The themes of Enisum's songs range from naturalistic, environmental, depression, man / nature, existential themes, etc.
There was much evolution with the latest album, especially with voices : there is more clean male vocals, contrary to clean female vocals, and there are more doom and acoustic passages. Why did you make these choices ? Can we consider Moth's Illusion as a turning point in your carreer or as a transition in your musical style ?
I create and play the music that I like. In this album I decided to sing clean parts, growl and scream. There were also acoustic parts in other albums for example. I do not follow the canons. I write my music based and how I perceive it. So I can't tell you what the next album will be like. It could be acoustic, Doom, Black Metal, Atmospheric Black Metal, Pop, Grunge … who knows ..
As far as I can remember, all your lyrics are in English, why did you choose to sing your songs in English and not in Italian ?
In Samoth Nara there was something in the ancient dialect of my mountains. In general the texts are in English because they make my composition easier.
As we are talking about languages, is there a local dialect in your region ?
Yes. I live in the mountains and every small village has its own dialect. In 10 kilometers you can find 3 small countries with three different dialects.
Thanks for the interview, I let you conclude as you like !
Thanks for the interview. See you soon !