Le groupe de pirate Mormieben a mis en ligne deux morceaux issus de leur EP à venir. Ils sont en écoute sur leur Bandcamp.
Pour rappel, à l'occasion de la sortie de l'album le 19 Septembre, le groupe se produira lors de leur release party à La Scène Michelet, Nantes ce jour de sortie, date dont Valkyries est partenaire. Ils seront accompagnés de Toter Fisch et Agony of the Bleding Flesh pour l'occasion.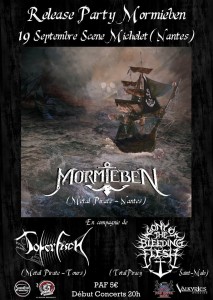 Evénement de la release Party.