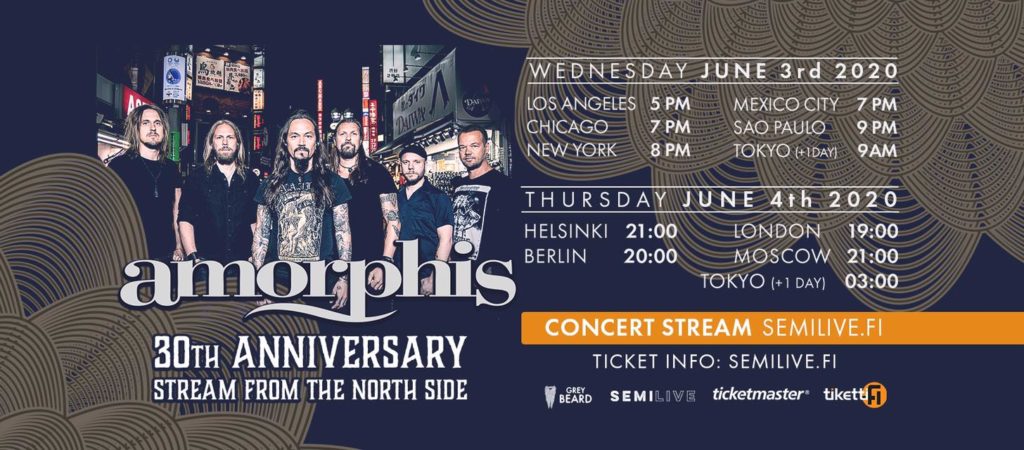 Pour fêter ses trente ans de carrière, à défaut de ne pas pouvoir partir en tournée, Amorphis donnera non pas un, mais deux concerts en ligne en partenariat avec Semilive, les 3 et 4 juin ! Les deux shows seront disponibles pendant 48h après le streaming. En plus du ticket classique, un ticket de soutien ainsi qu'un t-shirt seront proposés à la vente.
AMORPHIS 30th ANNIVERSARY – STREAM FROM THE NORTH SIDE – 3.-4.6.2020

Due to the current situation, Amorphis' official 30th anniversary tour has had to be postponed, but no worries – to cheer their fans up the band will play two live-stream shows on June 3rd and 4th 2020.

"Amorphis has received a lot of requests for live streaming, so we have now planned two different anniversary shows which will be streamed for the fans," says Esa Holopainen.

The band streams two separate shows through SemiLive at www.semilive.fi. Ticket buyers have the opportunity to watch the show again for 48 hours after the stream. In addition to the normal ticket, there will be a so-called support ticket and a special t-shirt design.
Tickets :
T-shirts :